OPPO announces new N3 and R5 smartphones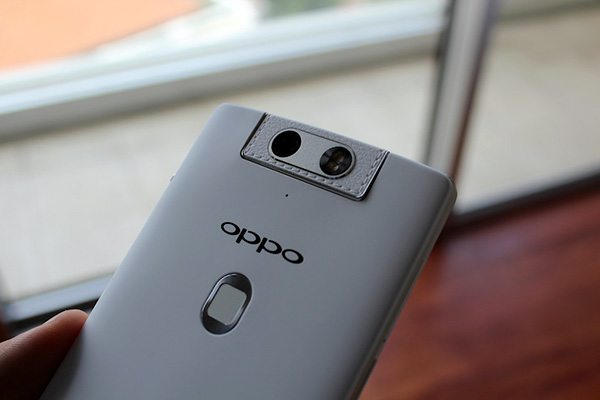 We've heard a lot of rumours concerning the OPPO N3Â (pictured above) recently, and the Chinese phone manufacturer has made it official earlier today, in a special event held in Singapore. Even more, accompanying the OPPO N3 was the all new OPPO R5, the world's thinnest smartphone (pictured below).
If you haven't heard of OPPO, the company is a China-based smartphone manufacturer that has quickly gained momentum thanks to its N1 model (the first with a swivelling back camera), and later with the Find 7 and Find 7a smartphones, which put a lot of emphasis on premium build quality, powerhouse specs, and a relatively low price point. Today, OPPO has unveiled the success of the N1, the N3, and, while it still has a swivelling back camera, this time it is motorised.
That aside, the OPPO N3 packs a 5.5-inch Full HD display with 1920 x 1080 resolution, and is powered by a quad-core Qualcomm Snapdragon 801 processor clocking at 2.3GHz. Helping it out there are 2GB of RAM, and storage is limited to 32GB (however, expansion is possible with the help of a micro SD card). The camera on the back is a 16 megapixel unit, and, since it's a swivelling system, that very same camera is also your front-facing webcam. Battery is rated at 3,000mAh, and the phone is powered by Android 4.4-based ColorOS 2.0.
The OPPO R5 on the other hand is crazy thin at just a tad under 5mm (4.85mm to be specific). It features a 5.2-inch Full HD screen with the same resolution as the one on the N3, and is powered by an octa-core (eight-core) Qualcomm Snapdragon 615 processor clocked at 2.1GHz. 2GB of RAM are present, in addition to 16GB of storage (expandable), while the camera is a Sony-made unit with 13 megapixels in capacity, of the Exmor RS kind. The battery is rated at 2,000mAh, and, just like on its N3 sibling, it is powered by Android 4.4-based ColorOS 2.0.
Let us know what you think of these two new phones: are you impressed by the motorised camera on the N3, or are you attracted more to the thin form-factor of the R5?