The new OPPO N3 has a cool motorised swivelling camera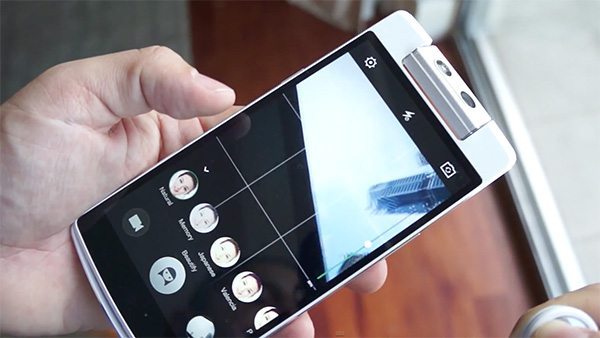 Chinese phone manufacturer OPPO has announced two new models earlier this morning: the OPPO N3, and the OPPO R5. They both bring some great features to the table, some of them even unique: while the OPPO R5 is the world's thinnest smartphone at just 4.85mm, the OPPO N3 takes the swivelling camera from the N1 (its predecessor) to the next level, by motorising it. If you can't wait to see it in action, check out a video below courtesy of Pocketnow, and jump to 1:26, where you can see how it works.
To put things into context just a little bit, OPPO first introduced its swivelling camera on the N1 model back in September of last year. The biggest problem most smartphone users are facing when it comes to imaging, and image quality, is that front-facing cameras on most smartphones are smaller both in terms of size for lenses as well as sensors, than the cameras on the back. This most of the times results in lower quality selfies. Some manufacturers like HTC and Sony have already started upping the megapixel count for their front-facing cameras (and some have even equipped these cameras with flashes), but OPPO has decided that for those occasions when you do need to grab a selfie, you could very well turn the back camera to the front, aim it towards you, and have a full-resolution self portrait.
Fast forward to today, and the OPPO N3 maintains the concept, while taking it to the next level. The motorised camera will turn the lenses towards you (it is able to rotate 206 degrees around its axis) and the OPPO N3 also comes with a smart remote, with which you can operate both the orientation of the camera itself, and remotely release the shutter to snap a picture.
Pocketnow have been on-location for the OPPO N3/OPPO R5 launch event, and, according to their findings, the motorised camera on the N3 works better than you'd expect. Check out the clip below, and tell us what you think of this new feature. Should it be a standard on most smartphones? Is it useful, or more of a gimmick?
https://youtube.com/watch?v=glqmHSiq2CA%5B
Source: Pocketnow