Samsung Galaxy Note 4 vs Note 3 vs Note 2 boot-up speed test
The Samsung Galaxy Note 4 is now making its way into the hands of eager buyers, and make no mistake this is going to be another big hit for Samsung. The Galaxy Note line is extremely popular and the latest addition has some top-flight specs. If you're wondering what difference this will make to speed you may be interested in a Samsung Galaxy Note 4 vs. Note 3 vs. Note 2 boot-up speed test.
If you haven't yet decided whether to purchase the Samsung Galaxy Note 4 or not, you might like to check out our recent Note 4 review collection for some different takes on the phablet device. Others may be trying to decide whether to upgrade to the Galaxy Note 4 from their existing earlier Note, so the YouTube video that we've embedded below this article could be interesting.
The concise video shows the three different Note models lined up with the Note 2 on the left, the Note 3 in the middle and the Note 4 to the right. They are powered by the Exynos 4412, Snapdragon 800, and Snapdragon 805 quad-core processors respectively. The handsets are then powered up simultaneously to see which boots up the fastest, and there's a clear winner as you might expect.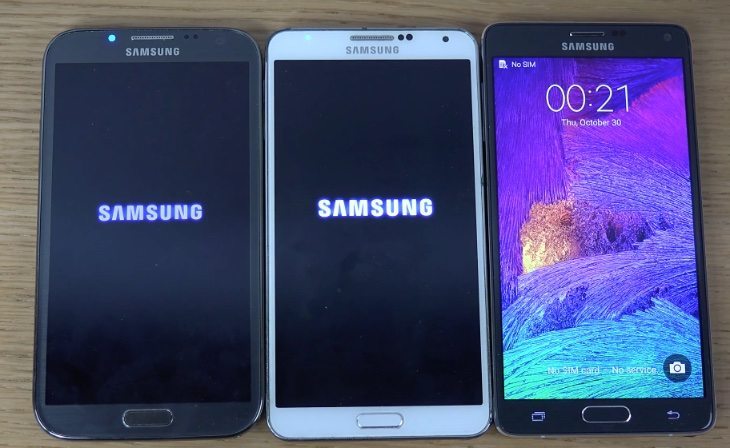 We're not giving too much away by saying that the Note 4 is definitely the fastest, although there's not as much of a difference between the Note 3 and Note 2. It's always good to see how newer models of popular devices improve over previous iterations, and this speed test is an example of that.
Once you've watched the video below we'd be interested to hear your thoughts on the boot-up speed test of the Galaxy Note 4, Note 3 and Note 2. Are you impressed by the difference in speed with the latest model, or perhaps you expected a larger gap between them? Drop us your comments in the box below.