iPhone 6 $100 price saving at Sam's Club soon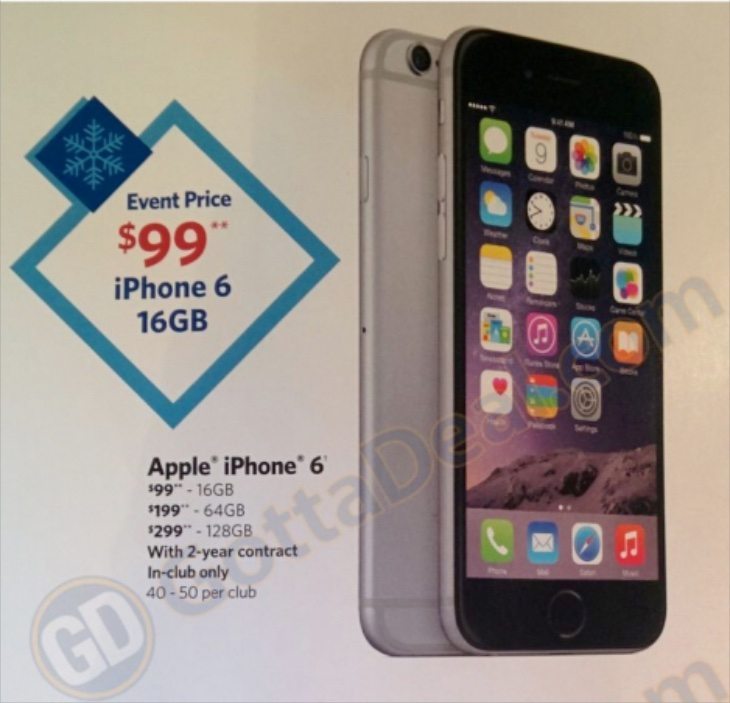 It's not often you see good deals on new Apple devices but you won't have to wait too long to get the iPhone 6 at a cheaper price according to some leaked news. There will be an iPhone 6 low price at Sam's Club soon, as part of an early Black Friday promo for the holiday season.
This information comes from a leaked flyer from Sam's Club, a membership warehouse retailer. If genuine, it means that the 4.7-inch iPhone 6 16GB model will be available from Sam's Club for only $99 on a two-year contract, starting from November 15. As well as the 16GB model there will also be lower prices for the 64GB version to be sold at $199 on contract, or the 128GB model at $299.
As a reminder the two-year contract prices for the iPhone 6 via the Apple Store are $199 for the 16GB model, $299 for 64GB, or $399 for the 128GB version. This means buyers can save $100 on each model with the deal from Sam's Club. However, it's reported that only 40 to 50 units will be in stock at each store, so potential buyers on November 15 will need to get in quick.
Alternatively if you're more interested in the original iPad Air, another deal at Sam's Club is for a $100 discount off the 16GB version. We should point out that the above information is from leaked info, so we cannot verify this just yet. Nevertheless, if accurate this is likely to appeal to plenty of buyers.
Are you intending to shop for the Apple iPhone 6 at Sam's Club on November 15? Let us know if you manage to get hold of one at these prices by sending us your comments.
Sources: GottaDeal
Via: MacRumors