Moto G (2014) vs Galaxy Grand Prime specs clash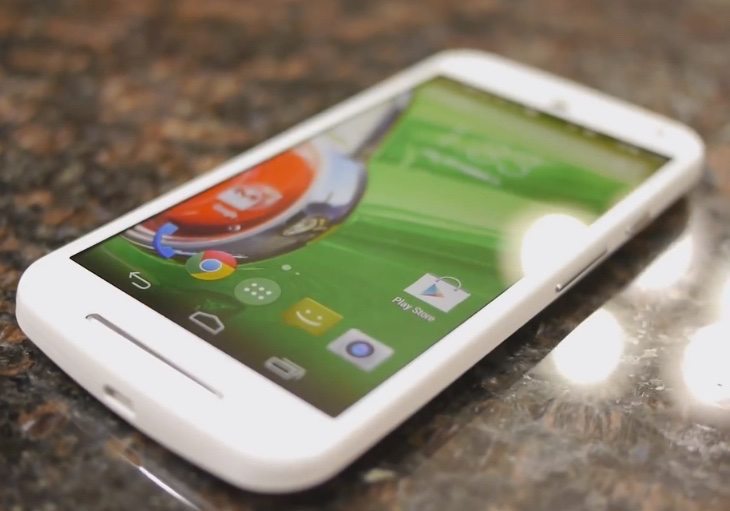 It can be bewildering looking at the array of smartphones on the market and wondering which to choose. If you're looking for a mid-range dual SIM phone and want something new to the market, the new Moto G and Samsung Galaxy Grand Prime may be in your sights. Today we're looking at the Moto G (2014) vs. Galaxy Grand Prime in a specs clash.
The Moto G 2nd gen is available in many markets and we're concentrating here on the dual SIM variant. Meanwhile the Galaxy Grand Prime is also a dual SIM device that recently released. After we've outlined the main specs of each you should have a better idea of how these phones compare against each other and which would suit your needs best, although you will also want to consider their individual designs and features.
Processors
The Moto G (2014) Dual SIM is powered by a 1.2GHz Snapdragon 400 quad-core processor and has Adreno 305 graphics. The Galaxy Grand Prime has a 1.2GHz Snapdragon 410 quad-core CPU and has Adreno 306 GPU.
Display
The new Moto G has a 5-inch IPS LCD display with resolution of 1280 x 720 and 294 ppi. The Grand Prime has a 5-inch TFT display with 960 x 540 resolution and 220 ppi.
RAM and Storage
The Motorola phone has 1GB of RAM and 8 or 16GB of internal storage, expandable via microSD to 32GB. On the other hand the Samsung handset has 1GB of RAM and 8GB of internal storage that's expandable to 64GB.
Camera arrangement
Both phones have an 8-megapixel rear camera with autofocus and LED flash. However, the Moto G has video capture of 720p and a 2-megapixel front-facing camera, whereas the Galaxy Grand Prime has video capture of 1080p and has a 5-megapixel front-facing snapper.
Battery
The Moto G has a non-removable 2070 mAh battery while the Galaxy Grand Prime has a removable 2600 mAh battery.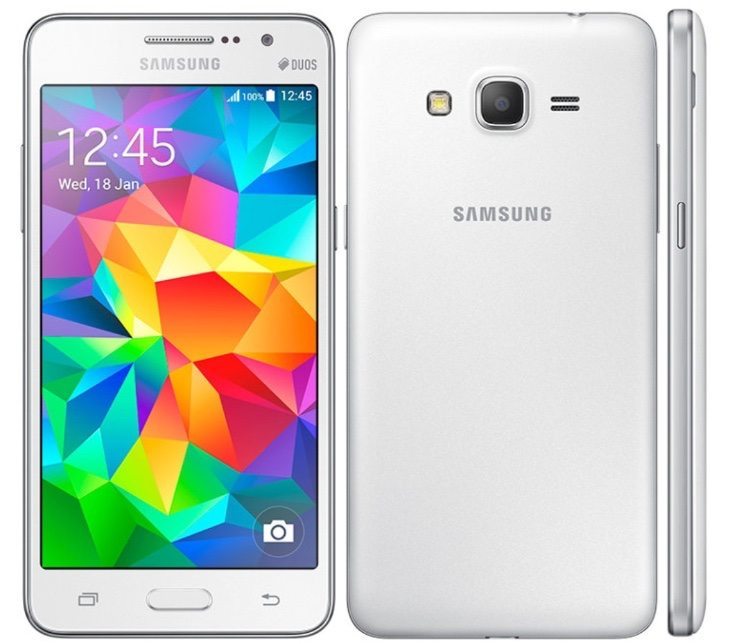 Connectivity
Both phones support 3G, WiFi 802.11 b/g/n with WiFi hotspot, Bluetooth 4.0, GPRS, EDGE and microUSB 2.0. The Galaxy Grand Prime also has WiFi Direct.
Operating System
The second-generation Moto G runs Android 4.4.4 KitKat, and it has already been confirmed that it will be upgraded to Android 5.0 Lollipop. The Galaxy Grand Prime runs Android 4.4.2 KitKat.
Dimensions and Weight
The new Moto G measures 141.5mm x 70.7mm x 11mm and weighs 149g. The Galaxy Grand Prime measures 144.8mm x 72.1mm x 8.6mm and weighs 156g.
Price
We're not going to be too specific here as prices vary by region and retailer. As an example though, we'll give the prices for India where dual SIM phones are very popular. The Moto G Dual SIM (2014) launched at Rs. 12,999 for the 16GB version. The Samsung Galaxy Grand Prime recently launched at Rs. 15,499 so is the more expensive of the two, although it can now be found from around Rs. 14,499 depending on retailer, to further close the gap.
It's easy to see when comparing these specs that these two phones have plenty in common. There are some differences though, for instance the Moto G (2014) has a higher resolution display, a higher model of internal storage, and is generally a little cheaper than the Samsung phone. It's also worth remembering that Motorola has been providing very swift Android updates for their phones just lately.
Alternatively the Samsung Galaxy Grand Prime has a higher level of expandable storage, a better camera set-up, a higher capacity battery that's also removable, and is the slimmer of the two phones. Therefore you need to consider which factors are more important to you, while looking at the appearances of the phones may also help you to make up your mind between them.
If you are about to purchase a new smartphone do you think it will be the Moto G (2014) or the Samsung Galaxy Grand Prime. Alternatively you may also be considering a different smartphone altogether? It's always good to receive your comments.