LG will have Bendable Displays next year, Foldable Displays coming in 2017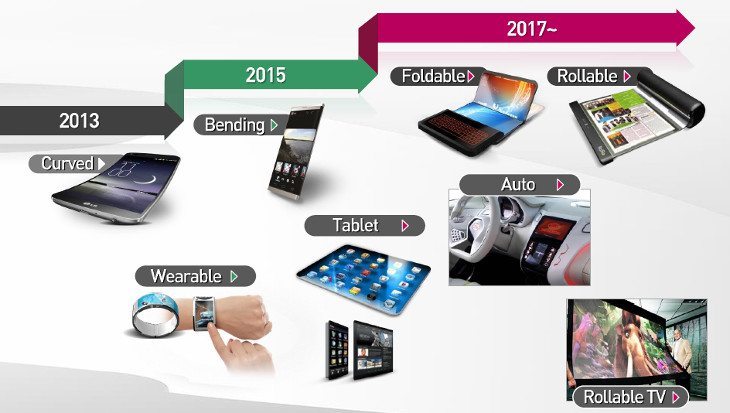 Samsung got folks attention with the Galaxy Note 4 Edge, and before that our interest was piqued by the Samsung Round and LG Flex. 2014 has been the year of the smartwatch and QHD display, but next year is shaping up to be the year of bendable displays according to LG's display roadmap.
The LG G Flex gained a lot of fans for its curved design and unique features, and a lot of folks are still waiting on the next generation of G Flex to arrive. A new LG roadmap surfaced today, and while it doesn't list the Flex by name, it definitely shows some intriguing options on the horizon with foldable, rollable, and bendable displays.
The LG display roadmap starts in 2013 and runs through 2017. The only device shown that actually exists (that we know of) is the LG G Flex as the "wearable" in 2013 certainly doesn't look like the G Watch. In 2015 LG shows a bending display and what appears to be an edgeless tablet. Two years later things will get really interesting for LG as they show auto displays, a foldable laptop of sorts and a rollable display.
The LG roadmap is exciting, and it's the type of tech you should get amped up about as we should actually see it in commercial products soon. LG will use P-OLED to pull this off, and it's something they've already used in the new LG G Watch R. That said, things could always be bumped back so don't be crushed if you can't waltz into a retailer and pick up a 21-inch rollable display in 2017.
via – GforGames   source: LG Display