Liverpool FC latest news, live scores with app update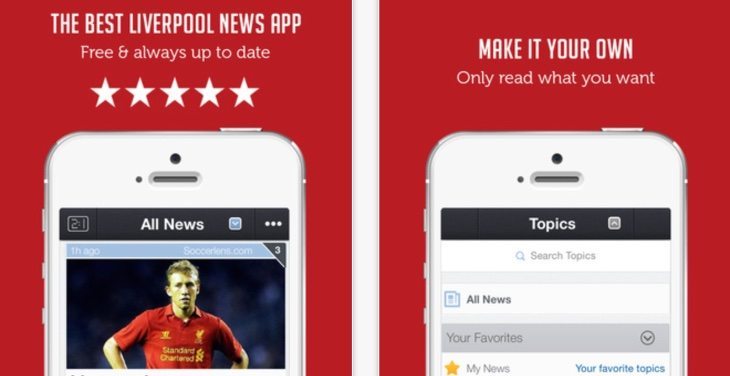 So are you a Liverpool, Chelsea or Man United FC follower? Well, if you're a fan of Steven Gerrard, Mario Balotelli or Raheem Stirling we're guessing you support The Reds. In that case you could be interested in Liverpool FC latest news and live scores with an app update for iOS devices.
The Sportfusion — Liverpool Unofficial Edition — News, Lives Scores, Transfers and Rumors app from Newsfusion has just been updated on the App Store. This app has a huge amount to offer fans of The Reds and bills itself as "the best Liverpool news app." This is a free app that gathers the goings on from football news sources, blogs and YouTube channels to provide a summary of the latest under one roof.
This means that if you want to see coverage from different sources about one news story you can do so, all with the use of one long tap. For the top stories users can receive push notifications to keep informed on the go, and the app also gathers YouTube videos about Liverpool FC, a Premier League scoreboard, and social summaries from across Facebook and Twitter.
Another really useful feature is customized news feeds. This enables users to follow specific topics or player news. So if you particularly want to find out about Daniel Sturridge, Eric Lallana or other players then it's easy to do so. This Sportfusion app was updated yesterday to version 2.8.1, providing fixes and also compatibility with iOS 8.
If you want to check out more about this app or download it then you can find the Sportfusion — Liverpool Unofficial Edition app at iTunes. It's compatible with iPhone, iPod touch and iPad running iOS 6.0 or later. As it's a free app it's definitely one that Liverpool FC fans should take a look at.
Are you about to head to the App Store for this iOS Liverpool FC app? If you choose to download it we'd be really interested to hear your views on it, and also whether you'd recommend it to other readers or not? Send your comments to let us know.