Nexus 9 vs iPad Air 2 face-off in this video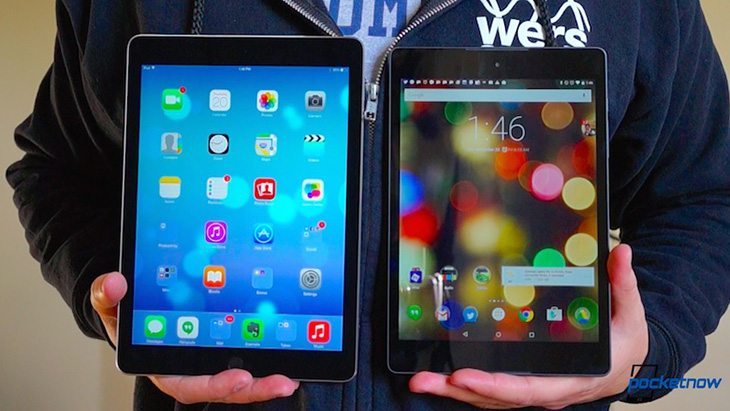 Google's Android or Apple's iOS? What should you choose? This is a question which is very often asked by future smartphone and tablet owners. Well, if operating systems are you sole concern, then this decision might be easy for you to take. Maybe you have an Android phone, or an iPhone, so an Android tablet, or an iPad, would be the logical solution. Maybe you're coming from one of these platforms and you're planning on upgrading your hardware; in this case, too, the decision is easy. It is also easy to take a decision if you don't want to switch platforms, as you're invested in either of the two ecosystems, with content you've probably already purchased. But what if you're looking to buy your first tablet, and you have to choose between Google's latest and greatest, the HTC-built Nexus 9, and Apple's flagship slate, the iPad Air 2?
Pocketnow is taking a close look at both these highly anticipated tablets, and, with the holiday season just around the corner, this video might help you choose the perfect gift for him, her, or yourself. Then, there's another important aspect you need to take into consideration: price. The Nexus 9 is on the cheaper (not much cheaper though) side, while the Apple iPad Air 2 will set you back some more.
But is the price difference worth it? Without spoiling the fun and the things said in the video, the Apple iPad Air 2 feels like a premium product, compared to the Nexus 9. From the aluminium build to the tactile feedback of the buttons (and we don't even want to mention the fingerprint scanner for added security and convenience), the iPad Air 2 offers a more premium ownership experience. On the other end, the Nexus 9 brings the unadulterated Android 5.0 Lollipop experience to your fingertips, and, with HTC's dual front-firing speakers (dubbed BoomSound on flagship smartphones since the HTC One M7 from last year) and Android's freedom of customisation, the HTC tablet holds its own.
So check out the video below, and let us know what you'd choose, if you haven't already (in which case let us know what were the deciding factors that lead to your purchase).

Source: Pocketnow