The Nexus 6 has a notification LED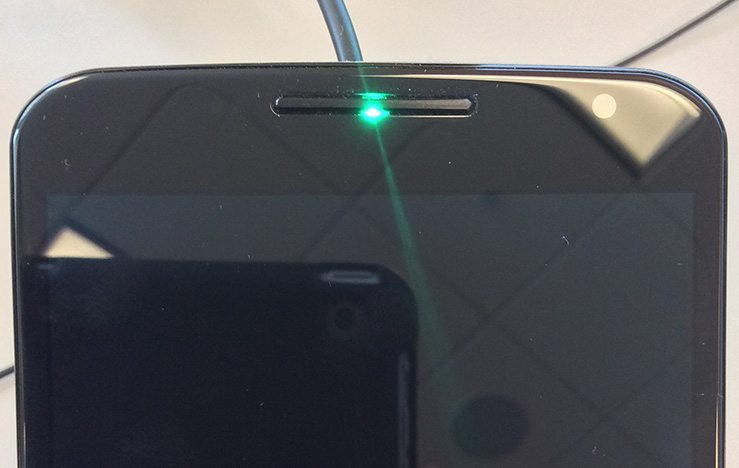 Regardless of which side you're on, you have to admit that notification LEDs, while old school and "so 2010", are not only neat (if done right, and in a modern way, like for instance on the Oppo Find 7 and Find 7a), but offer an effortless, convenient way, of acknowledging that there's a notification waiting for you. If you're an Apple iPhone or a Windows Phone user, you're probably paying less attention to notification LEDs, as the iPhone, as well as most of Windows Phones (if not all) don't offer a hardware notification LED per se. Sure, you can dig into your accessibility options and enable the camera flash to act as one (on the iPhone), but it's nothing like a good old (multi-colored) notification LED on the front of your phone.
Until recently, it was believed that the Motorola-built Nexus 6 doesn't have a notification LED. Users were preparing to find alternative software solutions (and there are a lot out there) to replace the missing feature, but, as it turns out, the notification LED exists, hardware-wise; it's just not functioning at the moment.
Manufacturers which leave out this tiny component often offer software alternatives, like Nokia's Glance Screen, or Motorola's Active Display, which inform you of your pending notifications on the screen (and if you have an AMOLED screen which consumes zero power while pixels are off — displaying black — things are perfect). But on the stock Nexus 6 you can't find a solution to replace the LED out of the box.
The LED on the Nexus 6 doesn't work out of the box; it's not even mentioned in the spec-sheet, and, even upon close inspection, you're likely miss it. That's because the LED notification light is buried behind the speaker/earpiece grill at the top, pretty much like on other phones (the Xperia Z2 for instance — Â for the Xperia Z3 Sony has moved it to the side). So, right now, if you're really interested in getting the LED to work, you'll have to root your Nexus 6, and, even doing so, you'll have limited functionality. However, it is good to know that the hardware component exists, and we're just waiting for the software to take advantage of its existence. The picture attached testifies to the above.
Source: XDA Developers
Via: Pocketnow