Linshof i8 set to arrive with 80GB of storage and an Octa-Core chip for $380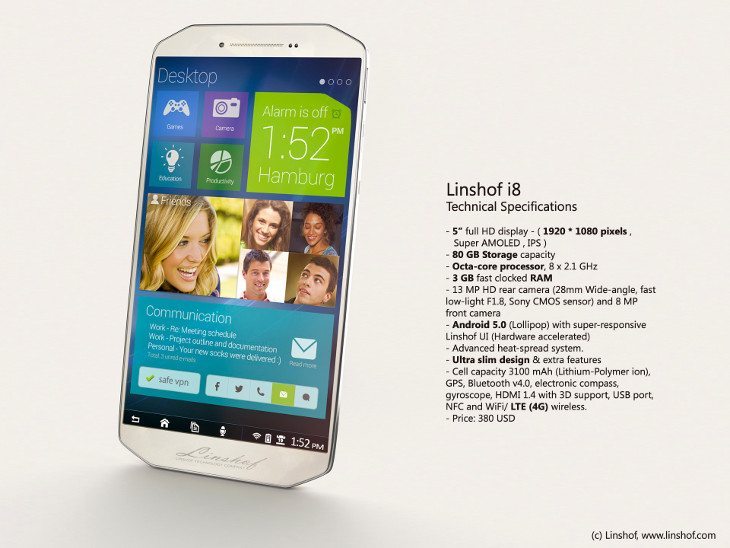 With mid to low-range handsets, there are always trade-offs. Usually that low price comes at the expense of horsepower, and 32GB of internal storage on a mid-range handset is not something we're accustomed to seeing. The Linshof i8 smartphone isn't necessarily considered a budget device, and it has more storage space than anyone is used to seeing.
The Linshof i8 is a handset that comes from Germany, and it's about as unusual as you can get. The design is different, the specs aren't the norm, and there is a whopping 80GB of internal storage under the hood. That's 80GB, not 8… no typo or error. The company accomplished this by giving the Linshof i8 smartphone 64GB of storage, then adding in an additional 16GB on top of that. That said, the 16GB is used for apps and is said to be faster than the 64GB of storage set aside for media.
As for the rest of the Linshof i8 smartphone specs, the device will have a 5-inch FHD display of the Super AMOLED or IPS variety. The processor is listed as an octa-core SoC clocked at 2.1GHz, and it's backed up by 3GB of "fast clocked" RAM. The rear camera is listed as a 13MP 28mm wide-angle sensor while the front-facing cam clocks in at 8MP. Connectivity options will include NFC, 4G/LTE, Bluetooth 4.0, GPS, and HDMI 1.4 with 3D support. The Linshof i8 is powered by a 3,100mAh battery, and will run Android 5.0 with Linshof's UI on top.
The specs of the Linshof i8 smartphone show a beastly device, and that coupled with the RAM and overall design of the device make the Linshof i8 one to watch. The octagonal design may turn some folks off, but the Linshof i8 price won't as it will only set you back $380 bucks unlocked. No firm release date has been set for the Linshof i8, but it is expected to arrive in Europe early next year.
Via — Tom's Hardware
Update: The company has closed it's doors as of December 19th. We're not sure if the whole thing was a ruse or legit, but the company has posted that "investors" have pulled the plug on the company.