12.2-inch iPad schematics allegedly leaked, details emerge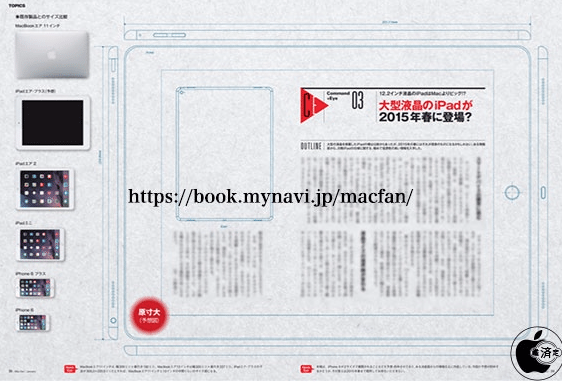 We've been hearing a lot of rumors regarding a larger Apple tablet, but so far, that's all there was to it. The chatter often referred to a 12.9-inch slate which would be placed above the iPad Air (or, more recently, the iPad Air 2) in Apple's tablet portfolio for whenever it gets announced. We expected this tablet to be unveiled this year, but, instead, we got an iPad Air refresh, represented by the iPad Air 2, and a newer generation iPad Mini with Retina Display, which is basically the same old tablet, but with the added fingerprint scanner.
From comes this latest bit of rumor to have your mind busy over the weekend. Macotakara has spotted an early January 2015 release of Japanese magazine "Mac Fan" which ran a page with allegedly leaked schematics of the tablet we talked about earlier. The blueprint is a full scale one, and it represents a 12.2-inch (and not a 12.9-inch tablet, as the rumors previously suggested) slate which is tentatively called the Apple iPad Air Plus (with probably references to the iPhone 6, and its bigger brother, the iPhone 6 Plus).
Other details have also been mentioned, like, for instance, the dimensions of the alleged slate:Â 305.31 x 220.8 x 7mm. Of course, both the schematics and the specifications can not be verified, and, even if they were legit, Apple has been known to use a lot of prototypes, out of which very few ever make it to production.
Back to the iPad Air Plus, the report claims that it will be the first Apple device powered by the Apple A9 processor, and it will purportedly ship sometime between the months of April and June of next year.
Another bit of information from the report claims that said tablet will feature not two, but four built in speakers placed along each of the edges, so that it can play back stereo sound regardless of the orientation the tablet is being used in.
The report also mentions plans of for an iPad Mini 4 (despite being too early for that), claiming that the next generation of the Mini tablet from Apple will be powered by the A8X chip, and will have the same design as the iPad Air 2.
We'll definitely hear more about this, but, until then, keep your mind busy on this question: could a 12.2-inch iPad replace your computer? Would you need a keyboard for it? Would it be a Microsoft Surface Pro killer?
Source: Macotakara
Via: Boy Genius Report