The 64-bit Lenovo K3 Music Lemon price listed at $97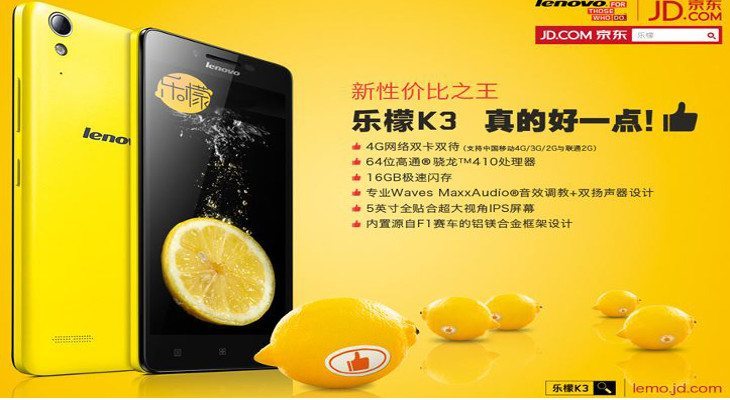 The new 64-bit Snapdragon SoC's are starting to appear in smartphones across the globe, and Lenovo is one of the latest companies to take advantage of the new chip. They've popped one in the Lenovo K3, and priced it low enough so that it's going to demand your attention.
While some companies fight the specs war, others are trying to make powerful but affordable handsets. It's big business in various parts of the world, and the Lenovo K3 price is listed at 599 CNY or $97 bucks as a direct shot at Xiaomi and their low-priced Redmi line. The popular handsets sell out in seconds due to their pricing and specs, but the K3 is ready to step up and take that crown.
The Lenovo K3 is dubbed the "Music Lemon" and carries the model number K30-T. The Lemon K3 specs show us a 5-inch device with a 720p display, and it has the aforementioned 64-bit processor under the hood which is a quad-core 1.2GHz Snapdragon 410. You'll get 16GB of (expandable) internal storage to work with, and 1GB of RAM will help keep things humming along.
The K3 Music Lemon will have a 2MP snapper in the front for selfies, and an 8MP camera on its backside. It's fairly thin at 7.9mm and the battery isn't too shabby either as its listed as a 2,300mAh juice box. The handset will have LTE connectivity, and it's going to run Android KitKat 4.4 straight out of the box. As it's new and 64-bit, the Lollipop 5.0 upgrade is most certainly a lock at some point down the road.
As you'd expect, the Lenovo K3 Music Lemon is bound for China and will be sold through JD — the same company that Xiaomi uses to push a lot of handsets. At this time, there is no word on the Lemon leaving its homeland, but it could certainly be a possibility if the $97 sells as well as we think it will.
Would you like to see the Lenovo K3 come to your country?
via – Phonearena