iOS 8.1.2 gets delivered to iPhones, iPads, with bugfixes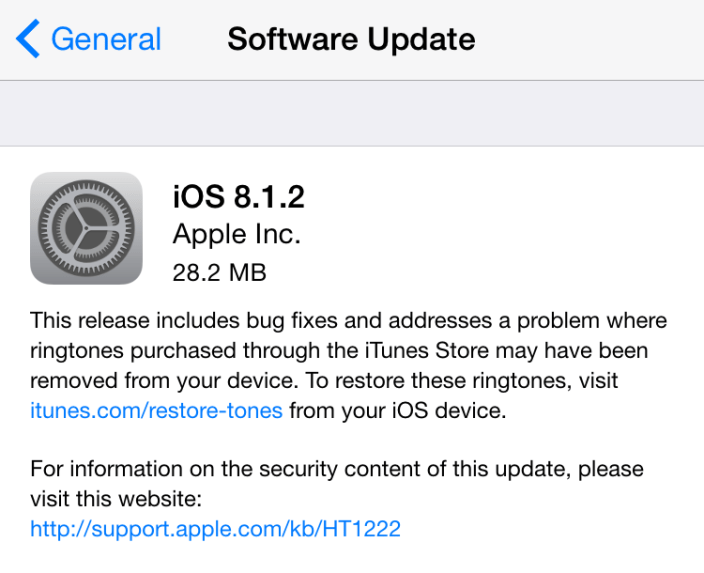 Apple continuously improves its mobile operating system as new bugs are being discovered (and addressed), and new functionality is being added, in addition to fine-tuning the entire experience, let it be on an iPhone, or an iPad. If your Apple phone or tablet is running iOS 8, then there's an even newer version available for you: iOS 8.1.2 is available as an OTA (over-the-air) firmware refresh, and brings bugfixes and "addresses a problem where ringtones purchased through the iTunes Store may have been removed from your device".
If you're among the users who has experienced missing ringtones, Apple's instruction are simple: you need to visit itunes.com/restore-tones on your device in order to restore those purchases, after applying the iOS 8.1.2 update.
The current iOS 8.1.2 comes almost a month after the previous maintenance release, which was iOS 8.1.1 of November 17. 8.1.1 improved the performance of iPhones and iPads running on iOS 8.1, which was released on October 20.
However, iOS 8.2 is on its way, as Apple has already released a beta of the refresh to developers, which will mostly focus on the Apple Watch and its software components. Apple's smartwatch is expected to be available sometime in the spring.
The current update, iOS 8.1.2, is available for a bunch of Apple-made devices, namely, the iPhone (iPhone 4s, iPhone 5, iPhone 5c, iPhone 5s, iPhone 6, iPhone 6 Plus), the iPad (iPad 2, iPad 3, iPad 4, iPad mini, iPad Air, iPad mini 2, iPad Air 2, iPad mini 3), as well as the fifth-generation iPod touch.
In addition to pushing out the over-the-air update to the aforementioned devices, Apple has also updated the Apple TV experience, by adding a revamped YouTube section, in addition to UFC and Dailymotion.
In order to apply the iOS 8.1.2 update on your iPhone or iPad, you need to go to Settings, General, Software Update, where you will find the refresh listed. From there, you need to select the update action, and, after about 10-15 minutes (if your device has at least 50% of battery charge left) and a reboot, your Apple device will be updated to the latest version. A full changelog concerning security improvements contained in the iOS 8.1.2 maintenance update will be published soon on Apple's dedicated page.
Source: 9to5mac
Via: Pocketnow