2014 Best Android apps and games according to Google Play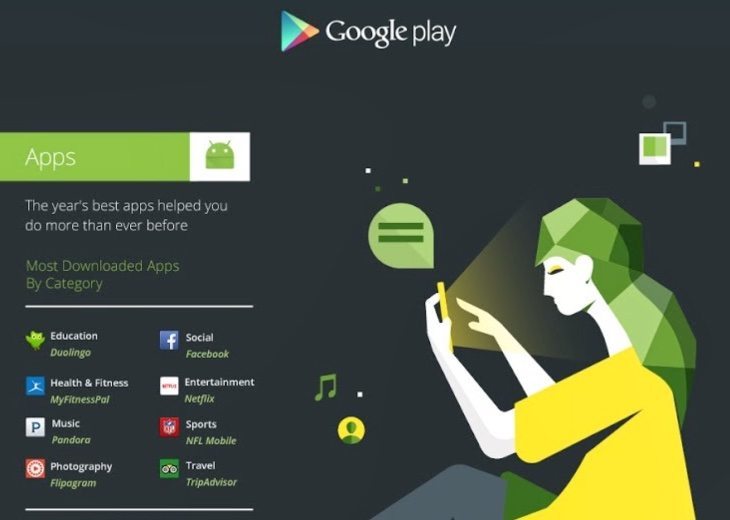 Around this time annually we start to see collections of top smartphones, tablets and other devices in lists for the year. Today Google has come up with an infographic that includes 2014 best Android apps and games according to Google Play. This type of list is always interesting and can often surprise us with a thing or two, so let's take a look at what appears in Google's rankings.
We'll begin with apps and the listing shows the most downloaded Android apps winner in 8 different categories. They are —
Education — Duolingo
Health and Fitness — MyFitnessPal
Music — Pandora
Photography — Flipagram
Social — Facebook
Entertainment — Netflix
Sports — NFL Mobile
Travel — TripAdvisor
The infographic also tells us that the fastest growing app category in 2014 was Health and Fitness. It then goes on to show the 5 most downloaded game titles of the year. These are —
1. Candy Crush Saga
2. Don't Tap the White Tile
3. Farm Heroes Saga
4. Subway Surfers
5. Clash of Clans
Another snippet of information shows that for 2014 Play game users unlocked 3.5 billion achievements, now that's rocking it! The same infographic also covers the best movies and TV, top music, most read Newsstand articles and News sources, and books, so if you want to check out the full infographic head to the source link below.
We'd be interested to know if you're surprised at any of the inclusions for best Google Play apps and games for 2014? Maybe you have your own idea of what should have been the top app or game, in which case why not let us know and share your opinions with other readers.
Source: Android Official Blog