Windows 10 event scheduled for January 21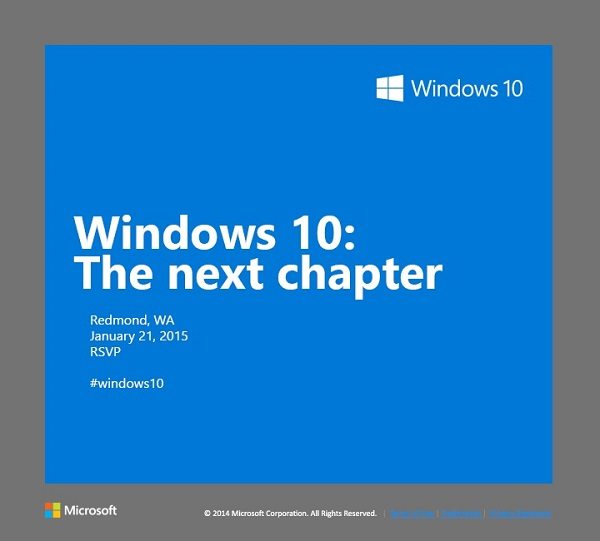 Just yesterday we looked at a report mentioning Windows 10 for phones, and how it might bring, whenever it comes out (expected mid-2015), new ways to interact with Live Tiles. The aforementioned report claims that the new version of Microsoft's mobile operating system will put the tiles on steroids, introducing a new kind of tile: the "exploding" or "flyout" tile, which is pretty much the same as the Mixview was in Microsoft's Zune software. When we reported about this, we told you that nothing is certain at the moment, as there is a long way until we see something official from Microsoft, but, the Redmond-based company announced that it will hold a special event, a Windows 10 event, at the beginning of next year.
Early 2015 will be dominated by the Consumer Electronics Show in Las Vegas, and all the cool gadgets that will see the light of day. Well, post CES, in January 21, to be more specific, Microsoft will be holding an event at its own campus is Redmond, where the company "will talk about the next chapter of Windows 10". The details are scarce, but the official wording mentions that we'll "hear directly from senior leaders from the Operating Systems Group including Terry Myerson, Joe Belfiore and Phil Spencer who will talk about the Windows 10 consumer experience". Now, at least one name on the list has a close relationship with Windows Phone, and we're guessing that the smartphone experience will also be a part of this event.
Given the fact that the CEO will be present, alongside the aforementioned executives, coupled with the fact that the entire event will be live streamed, we can expect to see a rather extensive preview of what Windows 10 will be, and how it will look and behave across different platforms, from PCs to the Xbox One, smartphones, and tablets.
Previous rumors have anticipated the existence of the event, and, in six weeks from now, we'll all know more. Until then, we can only hope that the event will be focused on the consumer-targeted features (as rumored), and, smartphones and tablets being part of it, we expect to see Windows 10 on Lumia phones and Surface tablets.
Source: Microsoft
Via: The Verge