Huawei plans to unveil the Honor 6 Plus on December 16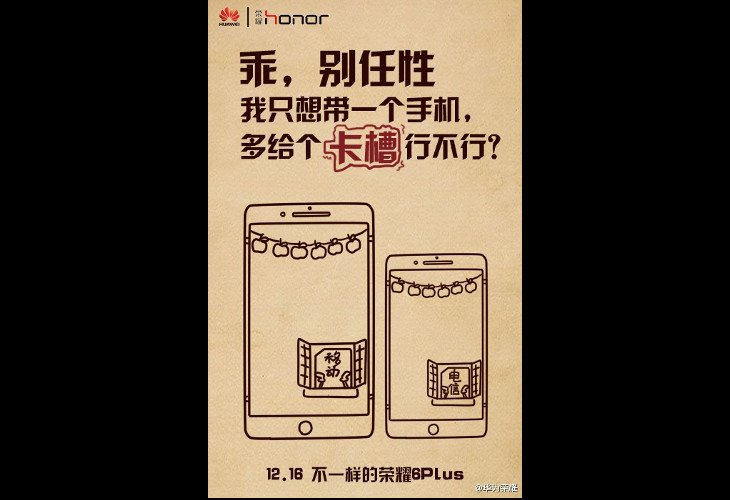 At the end of November, Huawei teased an interesting new device with the Honor 6 Plus. The announcement piqued our interest, and on December 16th we'll get to find out if the upcoming Huawei Honor 6 Plus lives up to the hype.
Huawei teased us all this week by posting a pic on their Weibo account giving us the December 16th announcement date for the Huawei Honor 6 Plus. The teaser shows a device that looks a bit like the iPhone 6, but as it's just an illustration, we'll have to wait another week to see the actual goods. That said, we already have a good idea of what to expect under the hood.
The Huawei Honor 6 Plus will be a 5.5-inch handset with a resolution of 1,920 x 1,080. The device will be powered by an octa-core Kirin 925 and that's backed up by 3GB of RAM. It's definitely a flagship, and it has Dual 8MP cameras on its backside to boot. There are still some aspects of the Huawei Honor 6 Plus that remain a mystery, but it wouldn't surprise us to see a fingerprint scanner or a few other flagship features included.
We're still not sure when the company will actually release the Huawei Honor 6 Plus, but it should be shortly after the announcement on the 16th. The Huawei Honor 6 Plus price is expected to fall in the $320 range, and it will definitely be a popular device if that price point pans out.
Is the Huawei Honor 6 Plus a smartphone you would like to see in your region?
via – GSMDome   source: mydrivers