Latest Football news at your fingertips with Eurosport app
As well as loving our gadgets we are keen football fans at Phones Review, and we often bring readers details about some of the best iOS and Android mobile apps available to cover the Premier League. The one we want to tell you about today will bring you all of the latest football news at your fingertips, and the Eurosport app has been updated today.
One of the great things about the Eurosport, all sport news app is that it not only covers football but also brings news of major sports from across the world. If football is the sport of your choice though, it brings news from the Premier League, La Liga, Bundesliga and more, and also news of the Champions League.
Whether you're a follower of Manchester City, Chelsea, Real Madrid, FC Barcelona or any other club, or a fan of Ronaldo, Lionel Messi or Diego Costa, you'll find coverage of daily news, latest scores and results, as well as live text commentaries for the biggest matches. There are also more than 150 daily news articles written for the app, video analysis, sports calendars, and exclusive web chats with pundits, players and journalists.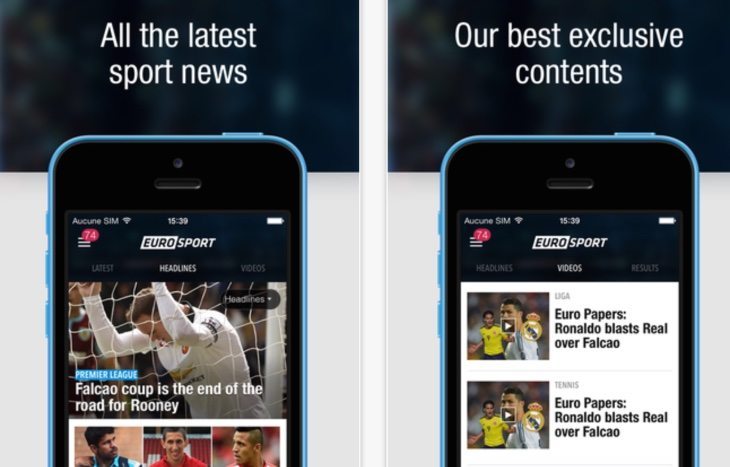 Other sports covered include F1, tennis, rugby, cycling, basketball, Superbike, boxing, snooker, athletics and many more. The iOS version of the Eurosport news app received an update today to version 5.1 bringing optimization for iPhone 6 and 6 Plus, the ability to put your favorite sports on the default homepage, an iOS 'Today' widget, and further additions. It's a free app on iTunes and it's compatible with iPod touch, iPad and iPhone running iOS 7.0 or later.
Alternatively you can find the Android version of the app at Google Play, although this one hasn't been as recently updated. It's free and receives a high 4.1/5 rating from user reviews, so why not give it a whirl. If you're looking forward to weekend matches such as Aston Villa vs. Man Utd or Liverpool vs. Arsenal, this app could be just what you need for the latest news.
If you decide to download the iOS or Android version of the Eurosport app for keeping up with breaking football news we'd be interested to hear what you think of it, so why not drop us a comment using the box below?