Galaxy S5 vs Nexus 5 and others in Android Lollipop boot-up speed test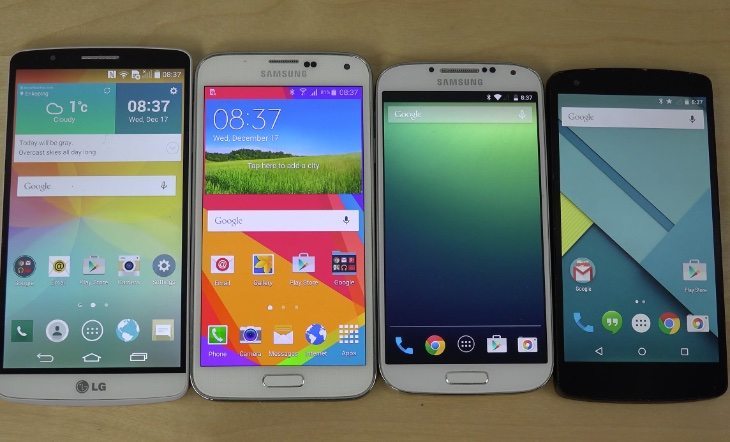 It's always interesting to see different devices running a new version of an operating system, and the Android 5.0 Lollipop update is slowly rolling out to more phones and tablets. One of the devices that have started receiving the upgraded OS is the Samsung Galaxy S5, though in limited regions so far. Today we have a video to share that shows the Galaxy S5 vs. Nexus 5, LG G3, and Galaxy S4 in an Android Lollipop boot-up speed test.
The Nexus 5 was one of the first smartphones to receive the update and it has also started to roll out to the LG G3, with UK owners of the phone joining in recently. Lollipop also recently became available for the Google Play edition of the Samsung Galaxy S4 although standard versions of the phone are still waiting. Below this story we've embedded a YouTube video of all four of the above phones running Lollipop.
The handsets are shown side-by-side and the Galaxy S5, Galaxy S4 and LG G3 are all running 5.0 Lollipop while the Nexus 5 is running the very latest version, 5.0.1 Lollipop. It's worth noting that the LG G3 also uses LG's user interface while the Galaxy S5 is skinned with Samsung's TouchWiz. On the other hand the Galaxy S4 GPe and Nexus 5 are both running stock Android.
First you'll see the phones being closed down and powered off and then they are all powered up simultaneously (a tricky feat for one person). If you think we're gong to tell you which device springs into action first then go home! We won't spoil your enjoyment of the video, but we will say that there is a clear winner and you may be surprised at the result (or not)!
When you've checked out the video below we'd really like to hear your reaction to the boot-up speed test on the Galaxy S5, S4, Nexus 5 and LG G3? Are you already using Android 5.0 Lollipop on your handset or are you one of those still waiting?