Samsung Galaxy S5 vs Nexus 5 on Android 5.0 Lollipop review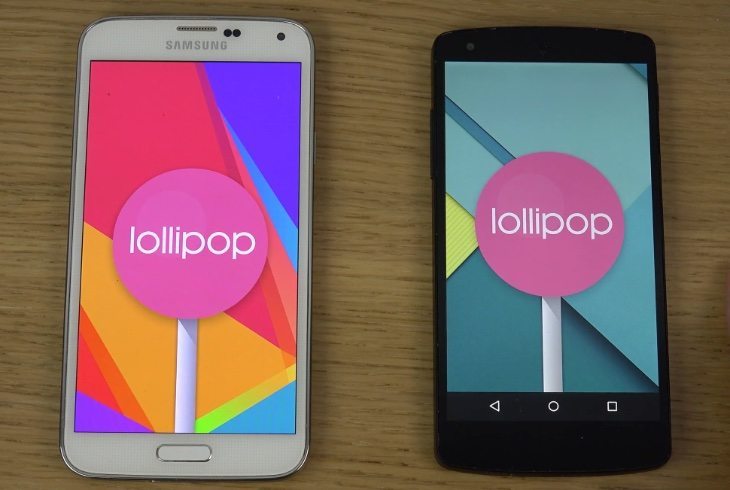 The Google Nexus 5 was one of the first devices to receive the Android 5.0 Lollipop update, just as you would expect. Meanwhile there have been leaked previews and builds of the same upgrade for the Samsung Galaxy S5, and just last week we told how the official Lollipop update for the device had started to roll out in some regions. Today we're sharing a video showing a Samsung Galaxy S5 vs. Nexus 5 Android 5.0 Lollipop review.
This is only a short 5-minute look at Android 5.0 on these two devices, but it's interesting as the Nexus 5 is running stock Android Lollipop while the Galaxy S5 is running Lollipop skinned with Samsung's TouchWiz. Therefore the YouTube video that you can view below this article offers an opportunity to compare these software experiences.
The two handsets are shown alongside each other for an easy comparison and various aspects of Android Lollipop are shown so that you can see how they differ. The Settings details look notably different on each and then you get a look at Profiles offered with the stock Android version on the Nexus handset, and S Finder and Quick Connect features that are on the Samsung phone.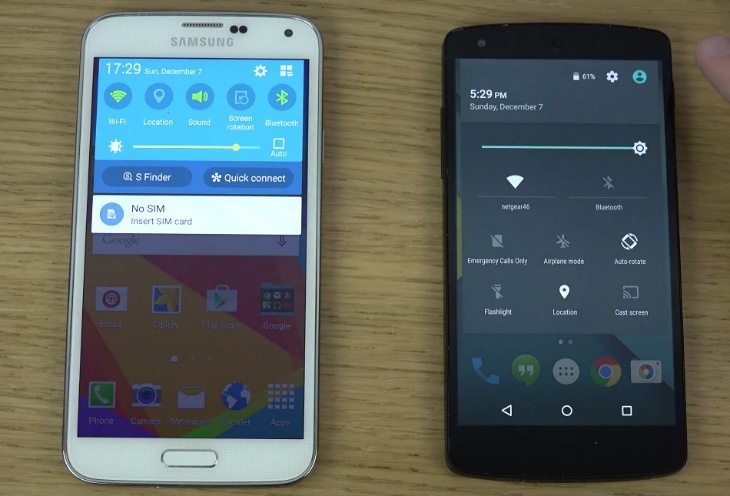 You'll also get an idea of some of the gesture controls as well as widgets, the app drawer, card-based UI, lockscreens, and more. For example the lockscreen on the Galaxy S5 has access to the camera while the stock Android lockscreen on the Nexus 5 offers immediate access to the dialer as well as the camera. We can also see that the Samsung phone has more to offer in the way of toggles when powering off the phone.
We feel the video below offers some useful insight into the differences of the UI experience on the Samsung Galaxy S5 and Nexus 5 running Android 5.0 Lollipop. When you've taken a look we'd like to know your preference. Do you prefer the stock Android Lollipop look or maybe you favor the TouchWiz-skinned version?