iPhone 6 vs Galaxy Note 4 vs Nexus 6 speed test is close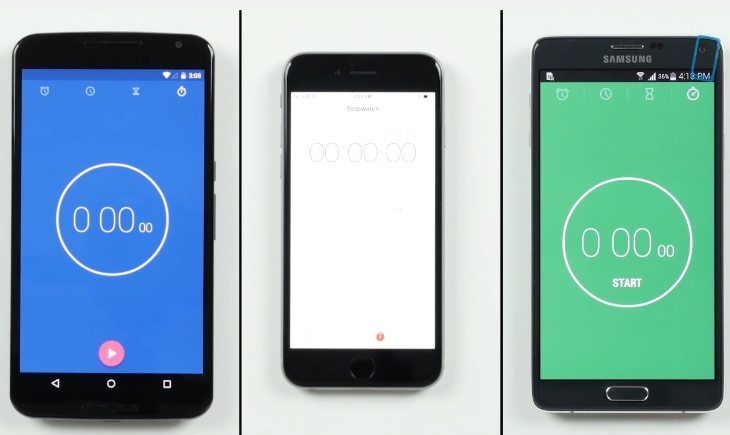 Three of the most popular devices of the year that have all arrived in the last few months are the Apple iPhone 6, Samsung Galaxy Note 4 and Google Nexus 6. These are all impressive devices and it's always interesting to see how top-flight smartphones compare against each other in different respects. Today we have a video to share of an iPhone 6 vs. Galaxy Note 4 vs. Nexus 6 speed test in a close-run race.
Before we get to the video it's worth noting some of the key specs of these devices. The iPhone 6 is powered by a 1.4GHz Apple A8 dual-core processor with PowerVR GX6450 graphics, and 1GB of RAM. Meanwhile the Galaxy Note 4 has either a 2.7GHz Snapdragon 805 quad-core processor or Exynos 5433 octa-core CPU (4 cores at 1.9GHz and 4 cores at 1.3GHz), Adreno 420 or Mali-T760 graphics, and 3GB of RAM. Finally the Nexus 6 made by Motorola is equipped with a 2.7GHz Snapdragon 805 quad-core processor, Adreno 420 graphics, and 3GB of RAM.
We've embedded a YouTube video below this story from PhoneBuff that gives an intriguing look at these three handsets up against each other. It's worth noting that the Galaxy Note 4 used in these tests is the variant using the Exynos processor. At the beginning of the video the reviewer points out that all three phones have had a fresh reboot and all three are connected to the same WiFi network to put them on an equal footing in this respect.
The stopwatches are set on each device and then they are all run through a series of the same tasks. Firstly the camera apps are opened to take a picture and then Temple Run 2 is loaded up followed by Angry Birds, Smash Hit, Clash of Clans, Photoshop Touch, and many more. During the different laps you'll hear useful observations and insight about how the different specs of the phones could be affecting the speeds.
After the first lap it's the Galaxy Note 4 that's leading the way and believe it or not it's pretty exciting to see the handsets vying for top spot. In the next lap we see the devices competing for the title of overall winner but we won't give away the result here, as you might want to find out when you view the video for yourself. We will say though that it's very close indeed, with just two seconds between first and second place.
After you've checked out the video below we'd be interested to hear your thoughts on the results of this speed testing on the iPhone 6, Galaxy Note 4 and Nexus 6. Do let us know by dropping us a comment in the box below.