Android 5.0 Lollipop and Sense 6.0 for HTC One M8 leaked in screenshots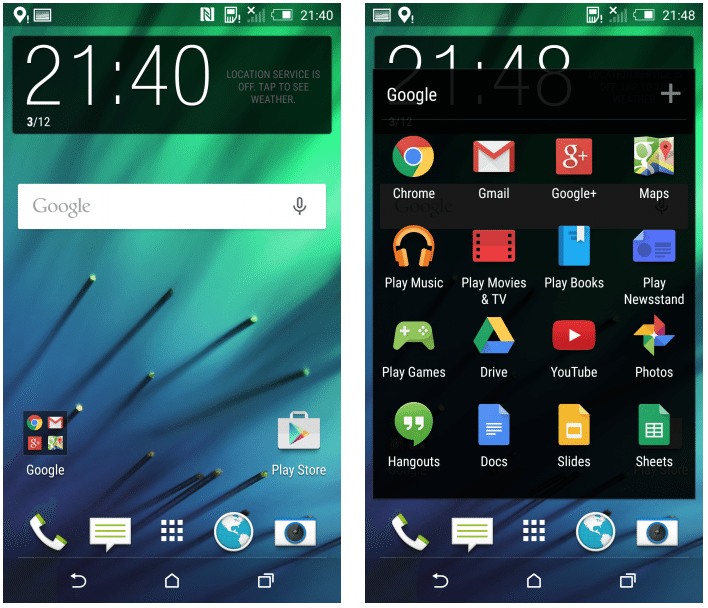 Manufacturers are working hard on getting Android 5.0 Lollipop on devices, and, while some have already succeeded, and phone owners are enjoying Google's latest dessert treat, HTC and its One M8 are still left on Android 4.4.4. That, however, doesn't mean that the company is not working hard on the refresh. HTC has officially promised that the One M8 will get the Android 5.0 Lollipop update within 90 days (that's three months) of its announcement. In the past, we've already heard reports of the update being developed, but today, we're seeing a set of screenshots allegedly snapped off of an HTC One M8 running an early build.
Android 5.0 Lollipop with Sense 6.0 will purportedly look like in the screenshot attached, once it hits your device. The package will update both the operating system and HTC's own user interface, Sense, and will bring new animations, and brand new notifications, among other features. Sense will inherit many of the animations that Android 5.0 Lollipop will bring (for example, for button press), and lock screen notifications will also be included as well, alongside quick settings and the multitasking view, part of the operating system.
If you want to quickly find something, or navigate through the settings, using search, this will also be possible, just like in stock Android. Additionally, the leaked screenshots also reveal the existence of an "Easy Mode", which will help less experienced users find their way around, or simply use the phone; we've seen similar modes on other smartphones as well, including those made by HTC's main competitor, Samsung.
We encourage you to click the source link below in order to see many more screenshots allegedly depicting Sense 6.0 and Android 5.0 Lollipop, as they run on the HTC One M8. However, sadly, there is no further information accompanying the images. We still don't know when exactly will HTC push out the new firmware to devices, but, those 90 days the company referred to will allow them to continue working and still obey the deadline by February 1, 2015. However, some rumors claim that we could see the new version of the OS being pushed out as early as the first week of January, which will also coincide with the upcoming Las Vegas Consumer Electronics Show.
Source:Â Llabtoofer.com
Via: Pocketnow
More coverage: AndroidCentral