Microsoft Lumia 2530 design features powerful specs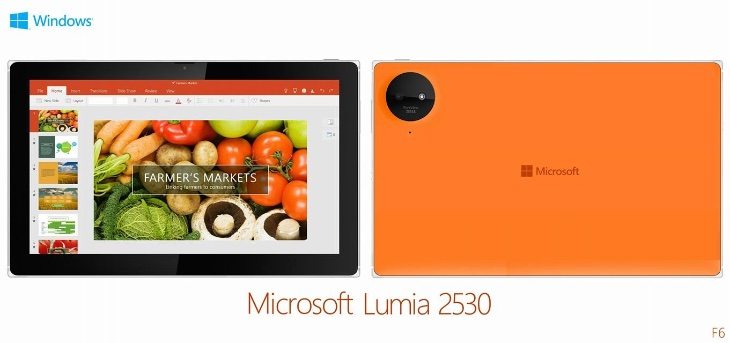 We expect a plethora of new devices to be unveiled at CES that kicks off later this week, and then again at MWC taking place in March. In the meantime it's a little slow as far as new devices are concerned, so it's a good time to take a look at an interesting concept idea. The image shown here is for a Microsoft Lumia 2530 tablet and it features some powerful specs.
This design was spotted on a Microsoft Lovers Facebook page, and this slate imagining could certainly be enticing to many fans of Lumia devices. It's a camera-centric tablet with high-end specs, and as you might expect of a Lumia design it has a polycarbonate body. There are metal edges and pretty large bezels surrounding the 11-inch IPS display with resolution of 2560 x 1440, and it's powered by a Snapdragon 810 processor.
Further specs to go with this vision are 3GB of RAM and internal storage of 34, 64 or 128GB, plus 4G LTE support. The camera capabilities consist of a 10-megapixel PureView camera with Zeiss technology and a 5-megapixel front-facing snapper. The tablet runs the upcoming Windows 10 operating system.
This Lumia tablet concept certainly reflects the latest Lumia phone designs, and it's likely that many people would like to see a tablet like this 2530 render come to fruition. It would be interesting to hear feedback from readers about this design idea so do send us your comments.
If this Microsoft Lumia 2530 tablet actually existed is it something you might purchase? What specs and features would you like to see on a Microsoft Lumia tablet?
Source: Microsoft Lovers (Facebook)
Via: Concept Phones