Tipped Samsung Galaxy S5, Note 4 promotion offers free Netflix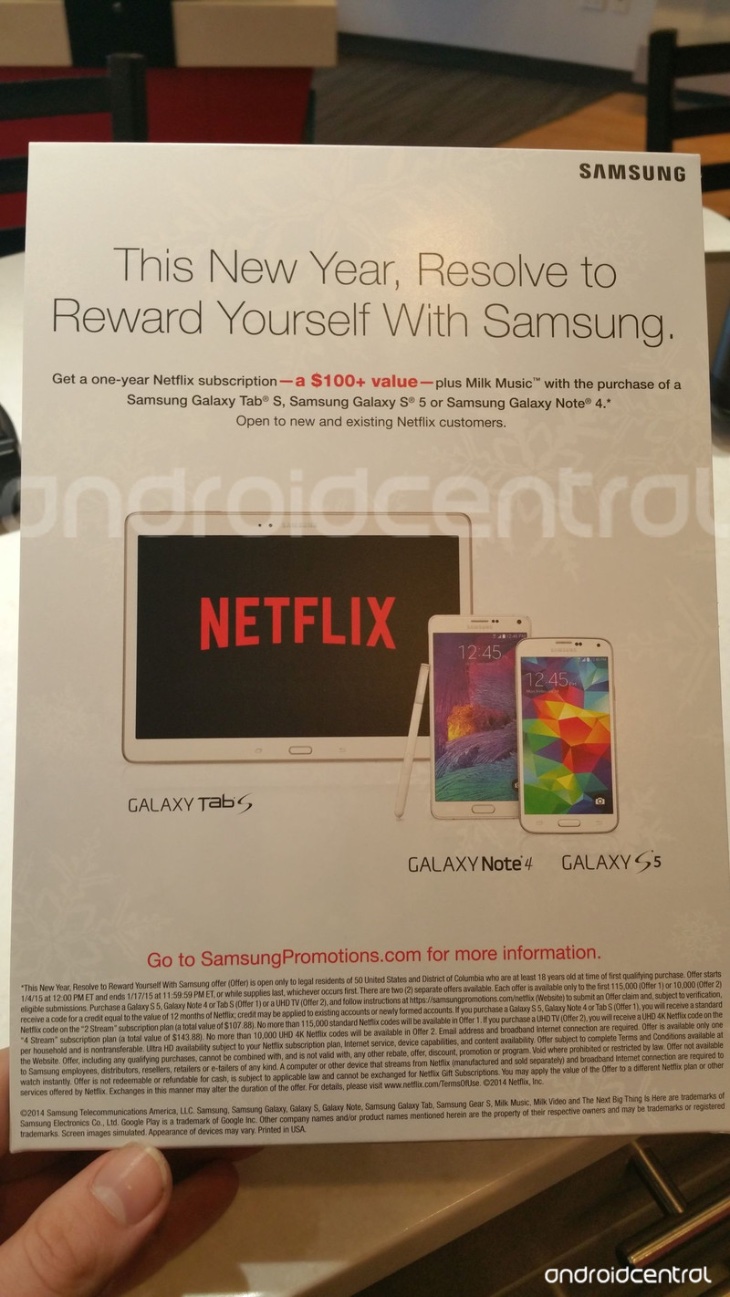 If you're one of those people who keeps meaning to purchase a new smartphone but haven't quite got round to it, this next snippet of news may interest you. This is especially the case if you want a Samsung smartphone or tablet, as a tipped Samsung Galaxy S5 and Note 4 promotion offers free Netflix for a year. The same deal also applies to purchases of the Samsung Galaxy Tab S tablet.
Details of the Samsung promotion were leaked to Android Central, but alas this only applies to US residents. The offer is touted as beginning tomorrow, Sunday January 4 at 12:00 pm ET. It runs to January 17 at 11:59 pm ET and applies to only the first 115,000 who apply to take advantage of it, so you might want to be quick on Sunday!
Those wanting to benefit from the promo need to purchase their qualifying tablet or smartphone and then head to SamsungPromotions.com to register a claim. If they are one of the lucky ones they will be credited for 12 months of Netflix service, which would usually cost $107.88, and fortunately this credit can be applied to new and existing Netflix accounts.
The promo also offers free Milk Music access. If you were just about to purchase one of these Samsung smartphones or tablets this is a nice incentive to add to the mix, but remember you may need to act fast.
Will you be taking advantage of this new Samsung promotion when it begins tomorrow, for free Netflix for a year with purchases of the Samsung Galaxy S5, Galaxy Note 4 or Galaxy Tab S? Let us know with your comments.
Source: Android Central