The Saygus V2 sports has a Biometric Fingerprint Scanner and up to 320GB of storage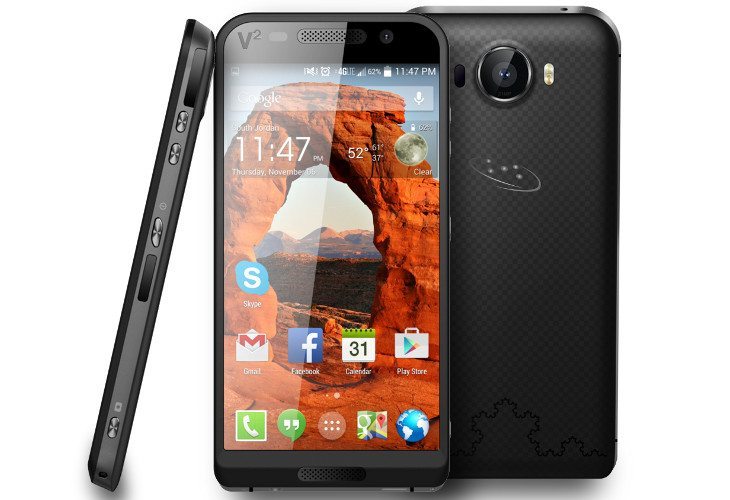 We love unusual smartphones, and it's been a while since we've seen one quite like the Saygus V2. You might not know the name now, but we guarantee you'll remember it once we tell you about the Saygus V2 specs.
At first glance, the Saygus V2 looks like any other smartphone. There's a 5-inch 1080p display, and as you can see from the photo, it runs Android with has on-screen buttons for navigation. The design does look a bit different, but you don't realize how much until you take a look at the side of the handset. On one side, you'll see absolutely nothing while the other has buttons for the volume and power along a dedicated camera button. There's also a Biometric Fingerprint scanner…
Having a fingerprint scanner on the side of your smartphone is definitely different, but that's just the tip of the iceberg for the Saygus V2. Other unique features include 60GHz Wireless HD game and movie beaming, optional root access, dual-boot capabilities, Qi wireless inductive charging, and a Harman Kardon sound setup. It also claims to have new waterproofing tech and carries an IPX7.
As for the actual Saygus V2 specs, it will have a quad-core Snapdragon, 13MP selfie snapper, 21MP rear camera with OIS, 3GB of RAM, and 64GB of storage. Just in case you feel like that isn't enough, there are dual-microSD card slots under the hood that support cards up to 128GB. Throw in a 3,100mAh removable battery (they thought of everything) and you've just met your next handset.
Details are still a little light when it comes to the Saygus V2 release date and pricing. The smartphone is expected to go up for pre-order in the states soon, but nothing has been mentioned in regards to the price aside from the fact that it will sell for up to $100 bucks less than its competitors. If true, you can expect the Saygus V2 to be one of the most coveted phones of 2015.