OnePlus One chance to buy on Jan 20 with times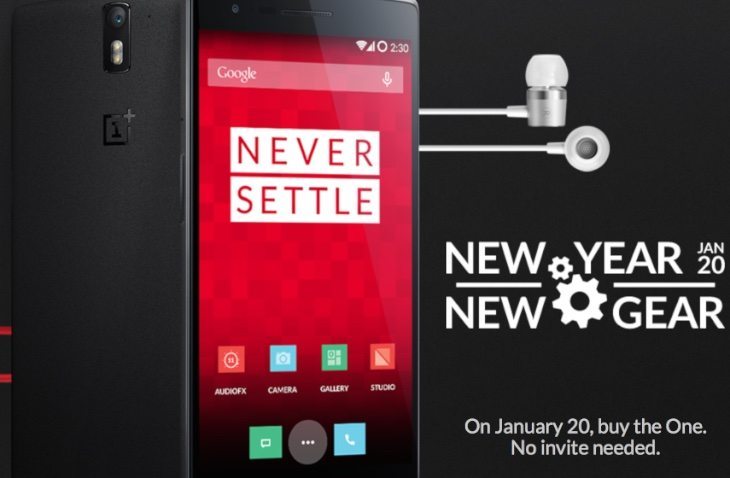 When the OnePlus One arrived for sale last year there was a huge amount of excitement for the smartphone dubbed 'the flagship killer.' It has excellent specs at a price to rival big name manufacturers offerings, but one of its only drawbacks has been actually getting hold of it. Now there's a special OnePlus One chance to buy on January 20 that doesn't require an invite, and we have details and times.
The OnePlus has been sold through an invitational system, and with demand far outstripping supplies this hasn't been exactly popular. While some waited to get the device, others gave up hope and have already moved on to other devices such as the Samsung Galaxy Note 4 or Nexus 6. The OnePlus Store has announced the online sale opportunity, so those who are still interested may be pricking up their ears.
This exclusive chance to get the phone without an invite takes place tomorrow (January 20th) but the sale time lasts for just two hours, so you'll need to be aware when to try. The times listed are 19:00 to 21:00 HKT for Hong Kong/Taiwan, 19:00 to 21:00 GMT for Europe, or 7pm to 9pm EST for North America. The OnePlus Store site also currently shows a countdown to the sale event, which at the time of writing reads 1 day, 9 hours, 16 minutes.
Both the 16GB and 64GB version of the OnePlus One will be up for grabs in the sale times mentioned. The usual OnePlus One 16GB price is $299 while the 64GB model will set you back $349, and we assume the sale event prices are the same. Those are extremely competitive prices, so even though there are already rumors of the OnePlus Two the January 20th sale could be of interest to plenty of people.
We have a feeling that the OnePlus site could be overwhelmed with potential buyers trying to purchase the phone tomorrow, but at this point it's a case of wait and see. If you're still not sure whether this is the right phone for you then you could take a look at our previous articles on it at the link. These include comparisons with other handsets, reviews and more.
Do you still have any interest in the OnePlus One? If so will you be attempting to buy one in the sale event tomorrow? Let us know with your comments.
Via: GSMArena