Microsoft Lumia 1280 design has surprising specs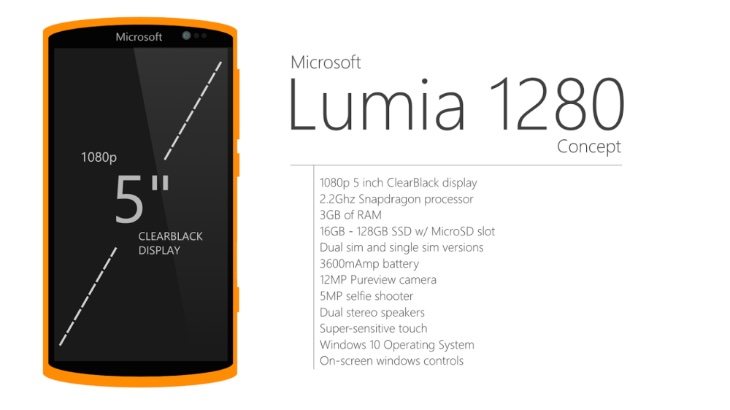 Since Microsoft took over the branding of Lumia smartphones we've seen a few low-end handsets announced such as the Lumia 535 and Lumia 532, but nothing for the mid-range or high end of the market. Today we have a Microsoft Lumia 1280 design to show you, and this one comes with some surprising specs.
We know that higher-end Lumia phones are on the way from Microsoft, but in the meantime we have to make do with some tantalizers in the way of concept visions. The render you can see here was designed by Flow- Scratcher on Google+, who created this idea using Inkscape. Although it's a basic looking polycarbonate handset it has some very decent specs.
Perceived specs for this Lumia 1280 are a 2.2GHz Snapdragon processor and a 5-inch Full HD display with resolution of 1920 x 1080 featuring ClearBlack technology. It packs 3GB of RAM, and has internal storage options of 16GB to 128GB, expandable via microSD. Further specs are a 12-megapixel Pureview rear camera and a 5-megapixel selfie front-facing camera.
There's a 3600 mAh battery, dual stereo speakers, and it features super-sensitive touch. The phone runs the upcoming Windows 10 operating system (on screen controls rather than capacitive). It would be in single SIM and dual SIM versions. Design-wise there's nothing overly distinctive about the phone, but as the specs are nothing to sniff at we wonder how readers feel about this idea.
Are you waiting for Microsoft to release a higher-end Lumia smartphone? Would you like the company to come up with something like this Lumia 1280 smartphone?
Source: Flow- Scratcher (Google+)
Via: Concept Phones