Best Samsung Galaxy Note 4 wireless charging options
The Samsung Galaxy Note 4 is one heck of an Android phablet, and it's pretty hard to find anyone who has a bad word to say about it. There is something that Samsung missed out on that could make the device even more appealing, and that's wireless charging. Although the phone doesn't have this built in, we're sharing a video today showing some of the best Samsung Galaxy Note 4 wireless charging options
The Galaxy Note 4 has a 5.7-inch Quad HD resolution display, a Snapdragon 805 or Exynos 5433 processor, and 3GB of RAM, and to keep it juiced there's also a removable 3220 mAh battery as well as well as Quick Charge 2.0 fast battery charging. There are a variety of ways that you can get wireless charging for your Note 4, and it's easy to see products for sale online. However, it can also be good to see them close-up before you buy. Android Authority takes a good look at some of the accessories that will enable wireless charging as well as a charging pad in the YouTube video that we've placed below this post.
One of these is the S Charger Cover and the video shows this accessory and how to install it on your Note 4 for wireless charging. The cover has a faux leather texture similar to the rear of the Note 4 itself, but as the cover is thicker than that of the phone it means you can't use the phone with a case. The reviewer also discusses the charging capabilities of this accessory.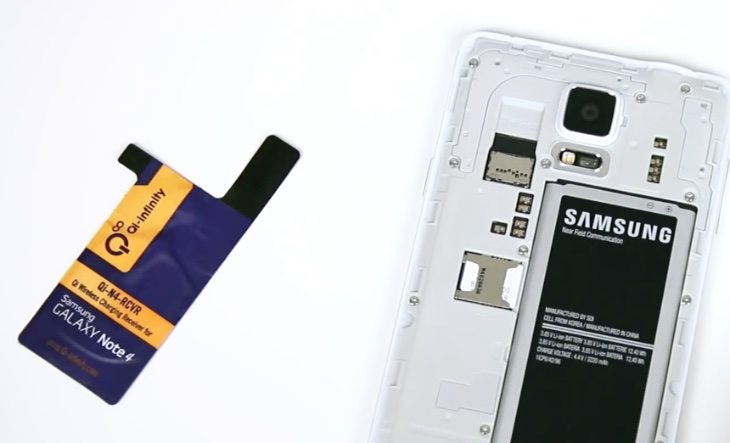 Next up is the S View Wireless Charging Flip Cover. This is an official accessory for the Note 4 and it's virtually the same as the usual S View Flip Cover with the addition of wireless charging functionality. This case also enables you to view weather, time, date, messages and more without having to open the case.
The next suggestion is the Qi-infinity Wireless Charging Receiver Card Coil (pictured above), and this is a way to wirelessly charge the Note 4 without adding any extra bulk. This makes no changes at all to the look and feel of your Galaxy Note 4 and the video shows exactly how to install the receiver. This one enables you to still use your own case on the phone if you so choose.
Finally the reviewer points out that once you've enabled wireless charging on your device you'll then need to get an actual wireless charger and shows a charging pad. When you've checked out the video below you can see prices, buying links and more for any of these accessories at the source link below.
If you've been toying with the idea of wireless charging for your Samsung Galaxy Note 4 we hope that one of these suggestions will be just what you're looking for. Why not drop us a comment if you order any of these accessories and let us know what you think of it. Will you be enabling wireless charging for your Note 4?
Source: Android Authority