Samsung Galaxy Tab 4 8.0 refresh to include 64-bit chipset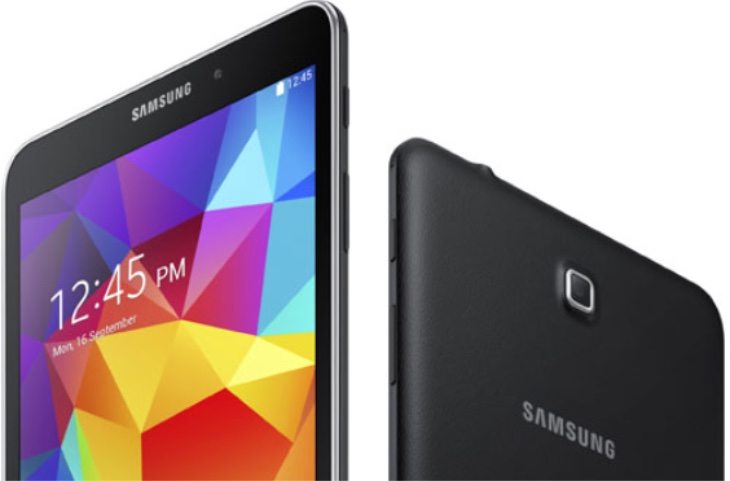 The Samsung Galaxy Tab 4 8.0 released last June and some may then be surprised to hear that a new version of the tablet is on the way. It's reported that a Samsung Galaxy Tab 4 8.0 refresh will include a 64-bit chipset, and this follows a spot on a benchmark database.
GFX Bench information shows a listing for the Samsung Galaxy Tab 4 8.0 with model number SM-T333. The current models of this tablet have numbers SM-T330, T331 and T335 for WiFi, 3G and LTE versions respectively. This shows a 1.2GHz Snapdragon 410 64-bit processor (quad Cortex A53) being used for the new model, and Samsung has already used this in some other devices, such as some of the Galaxy A handsets.
The listing also shows Adreno 306 graphics. Camera specs are a 3-megapixel rear unit with 1080p video capture and a 1.2-megapixel front-facing camera. The display resolution is 1280 x 800 but if you've spotted the 12.8-inch screen size shown in the image below, this is obviously an error. Other specs seem to be the same as for the existing versions, including 1.5GB of RAM, and 16GB of internal storage.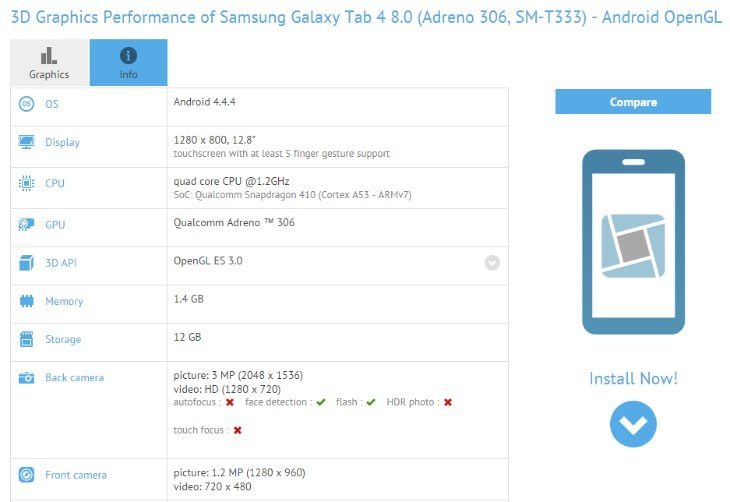 If you were hoping the refreshed model might be running Android 5.0 Lollipop rather than Android KitKat you may be disappointed that the GFX unit is running Android 4.4.4 KitKat. Another thing to note is that the version at GFX bench doesn't have NFC or mobile connectivity, although that doesn't rule out further variants.
There's no news yet on when the new version of the tablet will be available, but we'll bring more as it comes. Would you be interested in a refreshed Samsung Galaxy Tab 4 8.0 with a 64-bit processor? Send your comments to let us know.
Source: GFX Bench
Via: GSMArena