Nokia Embrace curved phone with 41MP camera specs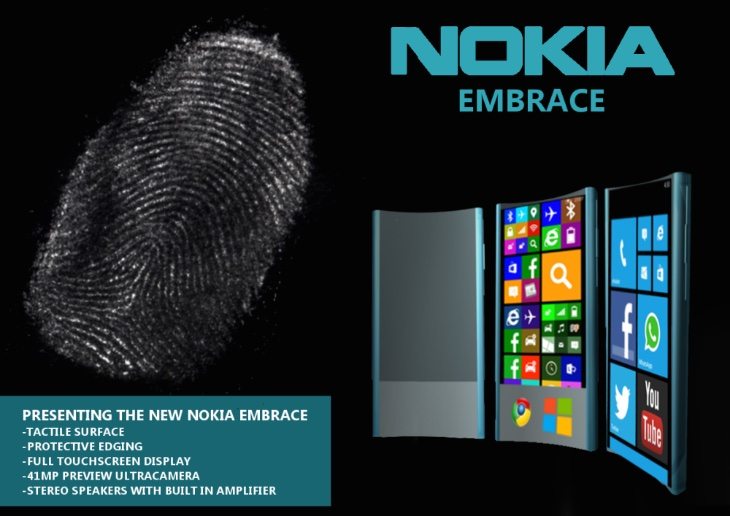 We sometimes like to show readers new concept designs, and many of these are based on future flagship devices. Today we have a new render to share that is of a rather unusual handset. Step forward the Nokia Embrace curved phone with 41MP camera specs and some very interesting features.
The Nokia Embrace users a variety of materials in its build, including aluminum, plastic, and sapphire steel. It has a tactile surface and also protective edging and it was designed by Alyssa O'Neill. We're not sure how we feel about the actual design of this smartphone, as it looks as though the curvature is quite extreme and also rather on the thick side. However, it certainly offers something a bit different to many of the concepts that we often see, and we wonder what readers think?
The high-end specs include a 41-megapixel Pureview Ultracamera that can be operated with a lock screen button. There are stereo speakers with built in amplifier, and a full touchscreen display with integrated Home button at its base. The Embrace also has LED notifications that are built into the screen, and another feature is that when the phone is turned over the time and notifications are displayed for 5 seconds before they disappear.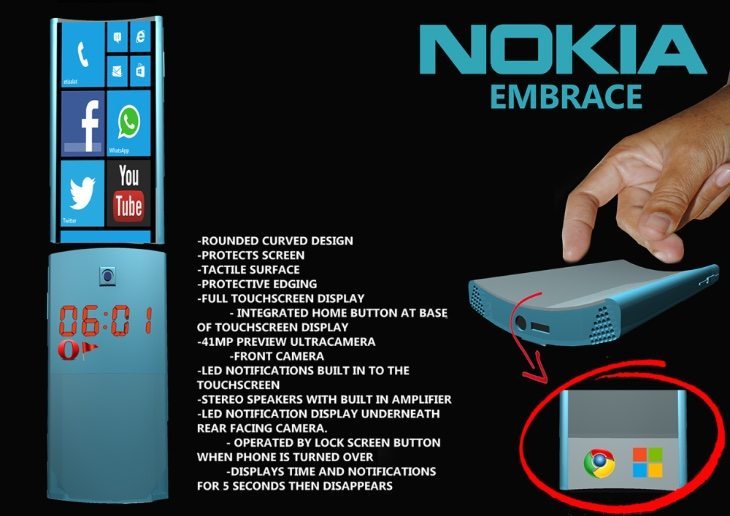 One of the images also implies some sort of fingerprint usage and it has a Windows Phone UI. We've included a couple of the images of this design here, but you can see more at the source link below, including some sketches showing how the concept evolved. While we're not completely sold on the curved design of this render, we certainly appreciate the work behind it and the feature ideas.
Would you like to see some of the features and specs of the Nokia Embrace make it to a new Microsoft Lumia smartphone? Maybe you really like the appearance of this Nokia concept? Let us know with your comments.
Source: Behance
Via: Concept Phones