Xiaomi Mi3 final India chance to buy on January 26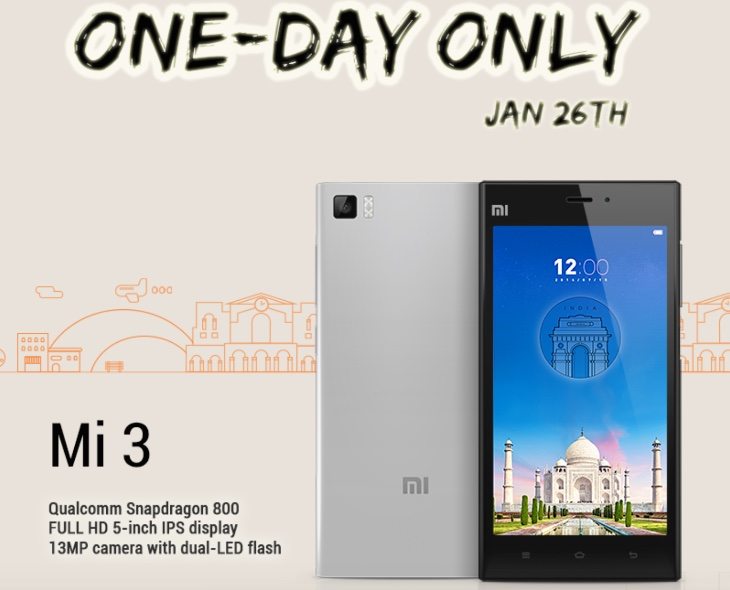 The Xiaomi Mi3 smartphone has been an immensely popular buy in India, along with other handsets from the company such as the Redmi 1S and Redmi Note. One of its only drawbacks has been the lack of enough units for sale and sporadic availability, although Xiaomi put it back on sale for a while during Diwali. Now there will be a Xiaomi Mi3 final India sale chance on January 26.
As most people thought the Xiaomi Mi3 would not be up for grabs in India again, this last opportunity will be good news for many customers who would still like to buy the phone, although this sale only applies to the Metallic Gray version. To purchase the phone tomorrow you'll need to head to this Facebook page and share it with at least 3 friends. Following this you're required to submit your Flipkart registered email address at this registration link, from 12 noon to 2pm on January 26th.
If you are one of the lucky ones, at 5pm the same day you'll find that the Mi3 will be in your Flipkart cart. Availability of the handset is first-come-first-serve with limited units for sale, although Xiaomi hasn't specified exactly how many. Of course there will be some potential buyers who may be waiting for the Mi4 to launch in India on January 28th. The phone is rumored to be going on sale on February 3rd, but the Xiaomi Mi4 price won't be announced until the launch.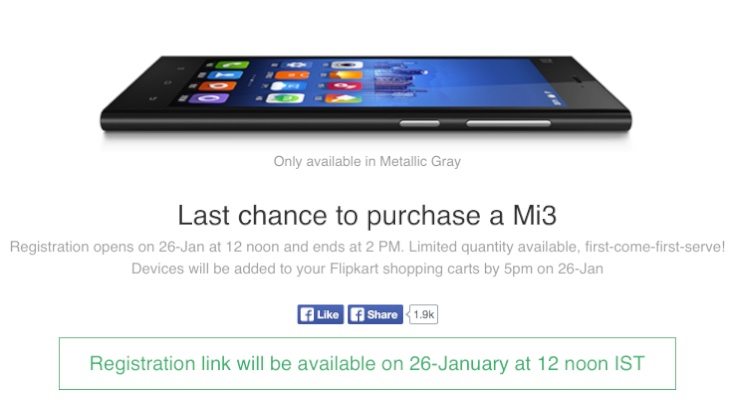 Key specs of the Xiaomi Mi3 are a 2.3GHz Snapdragon 800 quad-core processor, a 5-inch IPS LCD display with 1920 x 1080 resolution, and 2GB of RAM. This Android phone has a 13-megapixel rear camera, 2-megapixel front-facing camera, and a 3050 mAh battery. If you want to see more, including comparisons with other handsets such as the Moto G, Nexus 5, and Nokia Lumia 730 you can take a look at our previous articles on the phone here.
Are you intending to have one last try at buying the Xiaomi Mi3 in this sale chance tomorrow? Maybe you're going to wait now for the Xiaomi Mi4 launch for India instead? We always appreciate your comments so please do send them in.
Via: Fone Arena