iPhone 6 vs Plus, 5S, 5C, 5, 4S iOS 8.1.3 bootup speed and benchmark tests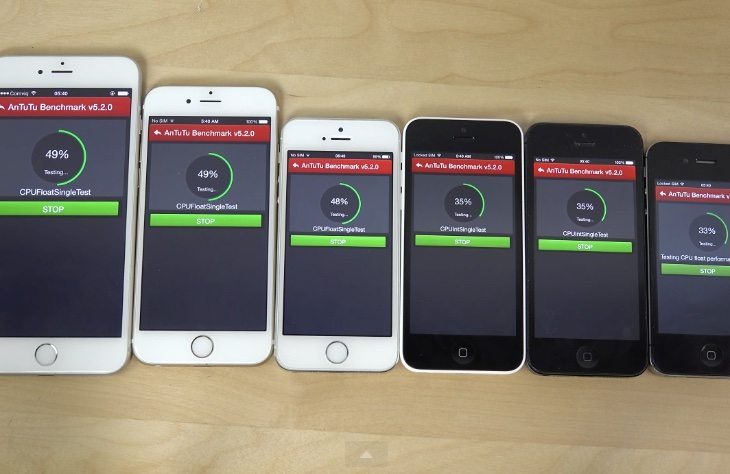 Many iOS device owners have been waiting for bug fixes with a new update to the mobile operating system. Apple's iOS 8.1.3 released to the public just two days ago and focuses on resolving various issues for iPhone and iPad. It's always interesting to see a new iOS update being put through its paces and today we're showing the iPhone 6 vs. Plus, 5S, 5C, 5 and 4S in bootup speed and benchmark tests.
We've embedded two videos below this article that show all of the above iOS devices running the latest update to see how they compare. The first YouTube video is a bootup speed test and at the beginning you'll see all of the handsets lined up and also see that they are all running iOS 8.1.3. Although the reviewer hasn't had time to delve into everything that the update offers, he does note that there appear to be changes to some icons.
You'll then see all of the phones turned off before they are all powered on again simultaneously to see which is ready for action first. We won't give away exactly what happens here but we will say that the result isn't unexpected. An interesting point noted by the reviewer though, is that the iPhone 4S seems to have received quite a speed bump as it's now much closer in bootup time to the iPhone 5.
The second YouTube video beneath this article shows the AnTuTu benchmark test being run on the same handsets as the bootup test, all running iOS 8.1.3. The reviewer tells us that everything in the background has been closed down and then you'll see the AnTuTu testing in progress. This takes a bit of time though so you might want to grab a cup of coffee in the meantime.
The difference in the time taken to actually conduct the test on the iPhone 4S is significant, although of course it is the oldest of the bunch. You'll then see the AnTuTu scores for each devices, and interestingly the iPhone 6 achieves a slightly higher result than the iPhone 6 Plus. The reviewer also offers up some other observations such as the rather larger gap in the scores of the iPhone 5S and 5C.
When you've scrolled down to the videos and taken a look we'd be interested to hear your thoughts. Have you already updated your iPhone 6, 6 Plus, 5S, 5C, 5 or 4S to iOS 8.1.3? If so, have you noticed any differences in speed and performance, or not? Let us know by sending your comments.