Apple and Samsung go head to head in global market share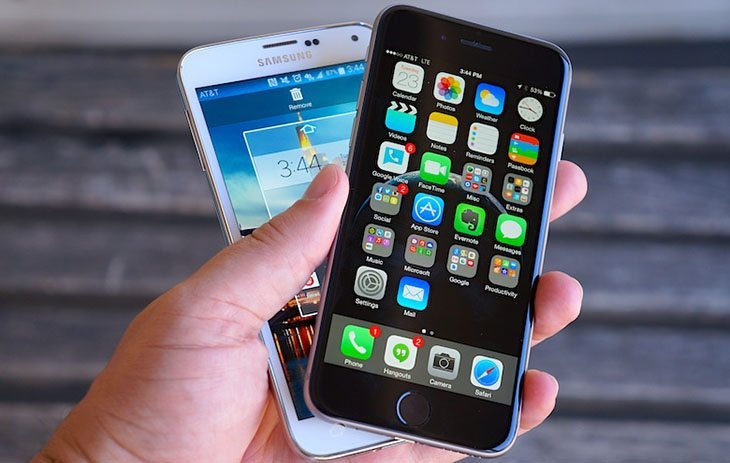 Apple and Samsung are at it again, fighting for every piece or percentage of market share, and, luckily, opposed to a wave of legal battles in the past, they're fighting this one out as they should, on the market. As we're seeing more and more financial numbers officially pop up from companies concerning their last year's performance (or the figures for the fourth quarter of 2014), other numbers are being published, like these recent ones from Strategy Analytics, that takes a look at how the biggest players are performing on the market.
The report mentions that global smartphone shipments have grown 31 percent in 2014, reaching 380 million units in the fourth quarter of last year, which represents a record. However, the fourth quarter of the year is what we're interested in, and it looks like Samsung and Apple are at a tie, both selling 74.5 million smartphones during the three-month period of October through December. According to IDG's numbers, the situation is roughly the same, though IDG seems to offer somewhat higher numbers for Samsung at 75.1 million units shipped.
As a reminder, we are looking at numbers concerning shipped units, which are not to be confused with sold units. If we take a step back and look at the entire 2014, not just its last quarter, Samsung is still in a comfortable leading position, trailed by Apple, while the third position belongs to Lenovo-Motorola, followed by Huawei just off the podium.
The fact that Apple has managed to ship as many phones and tablets as Samsung in the fourth quarter of 2014 is notable; the company has reported all time high revenue and earnings for Q4, thanks mostly to its new products (iPhone 6, iPhone 6 Plus, iPad mini 3, and iPad Air 2) that it launched before the Holiday season. Samsung, on the other hand, has reported a remarkable, 27 percent decline in quarterly earnings, but its flagship phone which usually drives sales, the Galaxy S5, is about to get a refresh soon, which might help Samsung stop that financial slide it's going through. While the battle for the first two positions looks to be happening with the same actors, it will be interesting to see what happens on positions three, and four.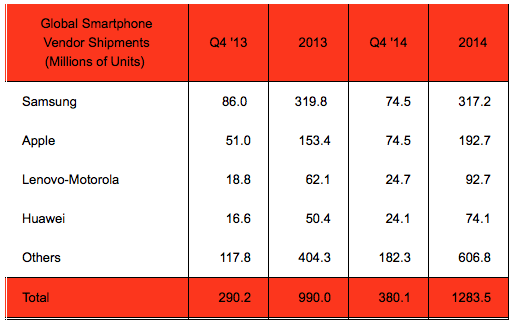 Source: Strategy Analytics, Business Wire
Via: MacRumors
Image: Pocketnow