Lumia 535 vs 635, 735, 830, 930 bootup speeds and benchmark test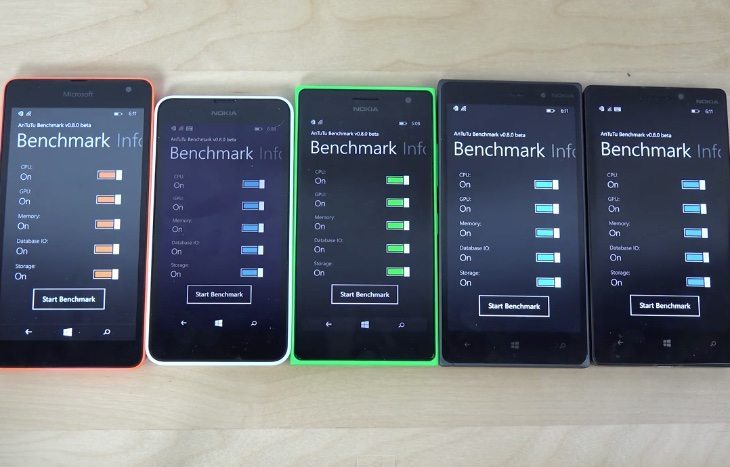 The Microsoft Lumia 535 was the first Lumia smartphone to launch without Nokia branding and it has created a huge amount of interest. It's a fairly low-end device for the budget end of the market and comes in single SIM and dual SIM models. It released in December and will compete with many of the earlier Nokia Lumia handsets. Today we have two videos to share showing Lumia 535 vs. 635, 735, 830 and 930 in bootup speeds and a benchmark test.
Key specs of the Lumia 535 include a 1.2GHz Snapdragon 200 quad-core processor, Adreno 302 graphics, a 5-inch display with resolution of 960 x 540, 1GB of RAM, and 8GB of internal storage (expandable to 128GB). It has a 5-megapixel rear camera and also a 5-megapixel front-facing camera, plus a 1905 mAh battery. It runs Windows Phone 8.1 with the Lumia Denim update.
Below this article we've embedded two videos showing some testing of the Microsoft Lumia 535 and also the Nokia Lumia 635, 735, 830 and 930. The first YouTube video is an informal boot up test. You'll see all of these phones lined up alongside each other and the reviewer shows that there are no apps running in the background on any of them. The handsets are then all turned off and following this they are all powered on simultaneously.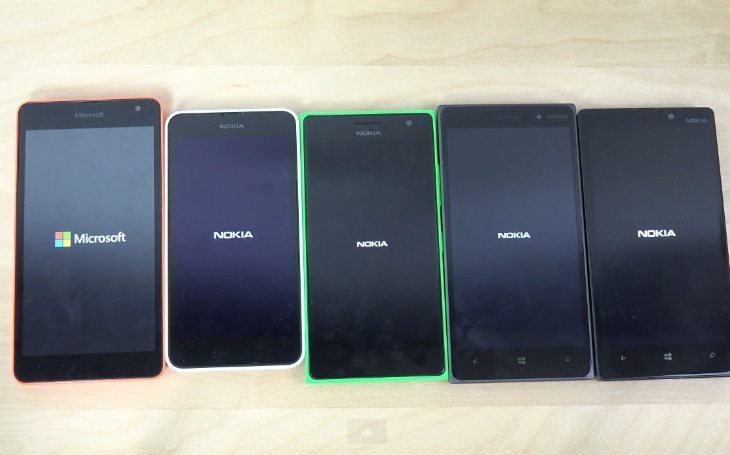 They all boot up pretty quickly but the Lumia 635 is the first to be ready for action followed swiftly afterwards by the Lumia 735 and then the Lumia 535. The Lumia 830 is next and finally the Lumia 930 makes up the numbers. It's interesting that the Lumia 535 does pretty well considering its cheap price, while the more expensive, the 830 and 930, are in fact the slowest to boot up.
The second YouTube video below shows all of the same handsets running the AnTuTu benchmark test. The test scores are pretty quick to appear and this time there's not too much difference between four of the handsets in many of the aspects, with one standing out. When looking at the total results one of the handsets gets more than double the score of any of the others. It may not be a surprise as to which that is, but we'll let you find out when you watch the video.
These tests are interesting diversions and we wonder what you think about the performance of the budget Microsoft Lumia 535 against the Nokia Lumia 635, 735, 830 and 930? Do let us know by sending your comments.