Micromax overtakes Samsung for India smartphone sales victory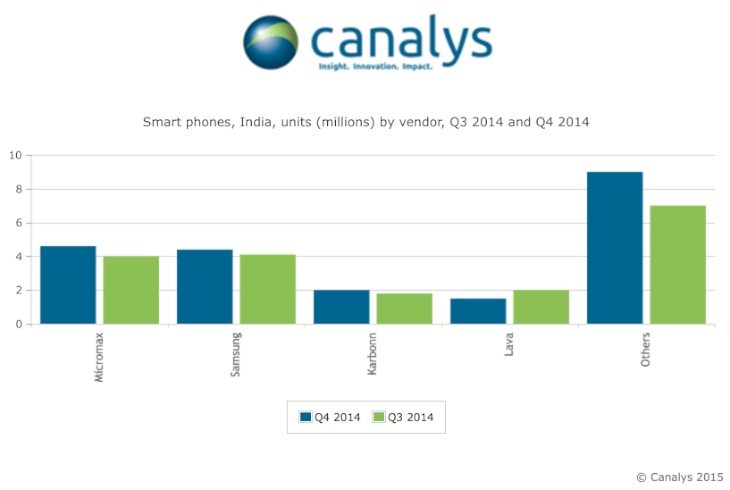 There's big news today regarding the Indian smartphone market and which maker has become the leading supplier. Home grown company Micromax has overtaken Samsung for an India smartphone sales victory, at a time when the market is seeing a huge boom. In fact India now takes second spot after China for mobile phone accounts, while for the number of smartphones sold it's now the third largest market.
This is the first time that budget handset maker Micromax has become the leading supplier of smartphones in India, and it's an astounding achievement. The figures come from research company Canalys and are based on fourth quarter sales. For the period of October to December New Delhi-based Micromax achieved 22% of smartphone sales in the company, beating off a 20% share for South Korea's Samsung Electronics Co Ltd.
The total number of smartphones sold in India in that quarter was 21.6 million units, that's a phenomenal rise of 90% from the year before. The biggest sellers are accounted for by low-priced handsets, with many consumers now stepping up from a feature phone. Canalys estimates that almost a quarter of smartphones sold in India in Q4 were budget devices with prices below $100, (around Rs. 6,100). Meanwhile devices between the $100 to $200 mark (approximately Rs. 6,100 to Rs. 12,200) accounted for 41% of sales.
If you're wondering which other manufacturers were in the top four for smartphone sales in the fourth quarter, it's reported that it was budget brands Karbonn and Lava. Considering the success of smartphones such as the Micromax Canvas Nitro perhaps we shouldn't be too surprised, and with the new Yu Yureka popularity Micromax looks to be sticking on its successful path.
What are your thoughts about Micromax becoming the foremost supplier of smartphones in India, and passing Samsung in the process? We always appreciate your comments.
Source: Canalys
Via: NDTV Gadgets