OnePlus One India no-invite sale on February 10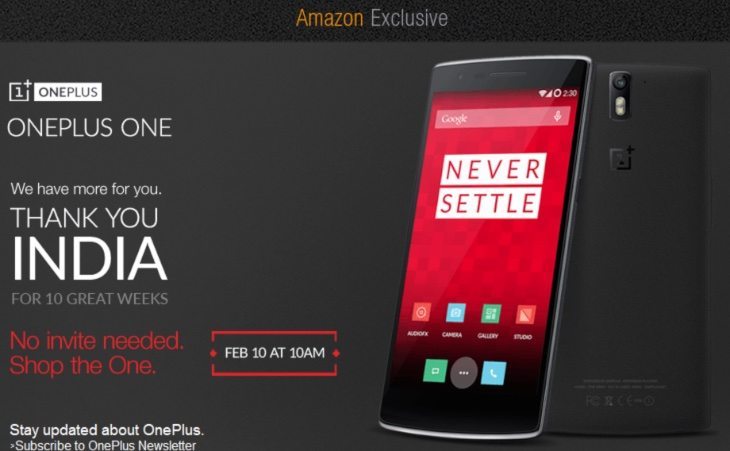 The OnePlus One has won plenty of admiration as a nicely specced Android smartphone with a competitive price tag. Although it released in June 2014 it only launched for India towards the end of last year, and it has only been available via an invitational system on Amazon India. However, there will be a OnePlus One India no-invite sale on February 10, that's tomorrow!
If you've been waiting to get your hands on this device this could be a good opportunity. One of the only criticisms of the OnePlus One has been how difficult it has been to get hold of because of only being able to buy one with an invitation. From time to time OnePlus has made the phone available for a short while in other regions without the need for an invite, and tomorrow is the chance for buyers in India.
OnePlus announced the news on Twitter as a celebration to mark 10 weeks since the One became available in India and as a thank you for the reception of the phone. The open sale in the country begins tomorrow at 10am IST on Amazon India, and remember, this will be the first opportunity for Indian buyers to get the phone without an invite.
One thing that the company hasn't made clear though is how many units will be available, so you may want to be quick in any attempt to buy it tomorrow. Amazon India has indicated a limited quantity will be up for purchase tomorrow, and expects the phone will go out of stock quickly because of high demand. The OnePlus One is available in with a price tag of Rs. 21,999. This is for the Sandstone Black 64GB version and exclusive to Amazon.
For full specs of the phone you might like to check out our recent comparison of the OnePlus One vs. HTC Desire 820. It would be really good to hear from readers in India who try to take advantage of this opportunity tomorrow, to know if you have any luck in this non-invitational sale? Do send us your comments to tell us if you manage to get hold of the OnePlus One or not.
Via: NDTV Gadgets