HTC One M9 and M9 Plus specs get Benchmarked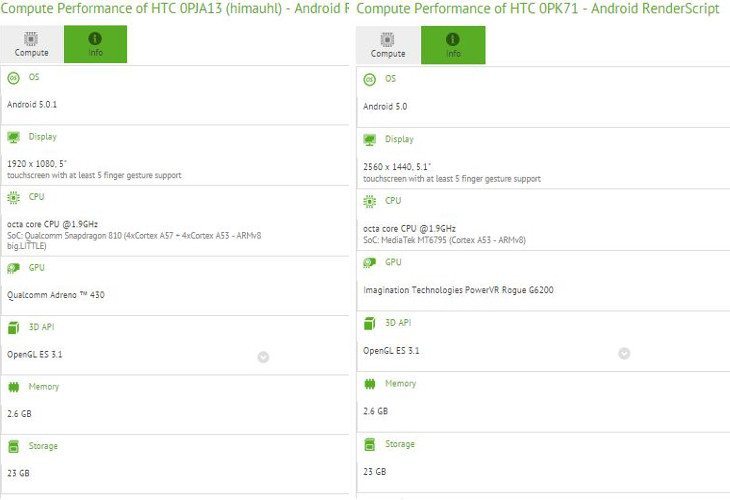 The HTC One M9 has leaked too many times to count, and as you'd expect, some of those rumors are more concrete than others. Benchmark listings are generally a good way to go, and now the HTC One M9 and the mythical HTC One M9 Plus have just gotten benchmarked.
A number of phones have leaked out through GFX and AnTuTu listings, but the HTC One M9 and One M9 Plus specs leak comes from a site called Compubench. The devices in question are labeled the HTC 0PJA13 himauhl and the HTC 0PK71 which is believed to be the Plus model. Ready to take a look at those specs?
First up is the HTC 0PJA13, the device assumed to be the HTC One M9. The specs line up with previous leaks (for the most part) so you're looking at a 5-inch FHD display, Snapdragon 810, 3GB of RAM, and 32GB of storage. The cameras are listed at 21MP and 13MP, so the Duo Camera is gone and those UltraPixel rumors may not pan out.
As for the HTC One M9 Plus specs, everything stays the same with the exception of the display and SoC. The One M9 Prime will sport a 5.1-inch QHD display and is powered by an octa-core MediaTek MT6795. In a nutshell, both models will be able to hold their own against other flagships, but you'll have to pay a bit more for the extra pixels on the Plus model.
All the new leaked HTC One M9 and One M9 Plus specs are dead on the money with previous rumors, so you can take them to the bank. The only things that have differ somewhat is the size of the display, and the "Plus" model as a whole. Some think we'll see a premium version while others aren't so sure, and it's a road we have been down before with HTC.
Would you be interested in a premium version of the HTC One M9?
via – Techtastic.nl   source: Compubench  1, 2