Galaxy Note 4 vs Note 3, Galaxy S5 Lollipop AnTuTu speed tests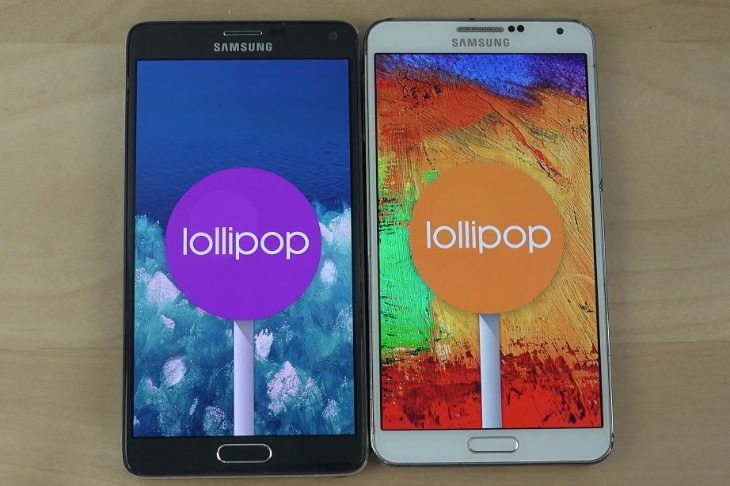 The rollout of the Android 5.0 Lollipop update has been slow progress so far. Some of the top-end Samsung smartphones have recently started to receive it, although availability may currently be limited to particular regions or models. Today we're looking at three of the devices that Lollipop has started rolling out to, and we have a video of the Samsung Galaxy Note 4 vs. Galaxy Note 3 and Galaxy S5 on Lollipop in AnTuTu speed tests.
Of these devices the Android Lollipop update began rolling out first to the Galaxy S5, and this was more recently extended to the Galaxy Note 3 even before it eventually arrived for the Galaxy Note 4, for some regions at least. Beneath this article we've embedded two videos showing AnTuTu benchmark testing being conducted on these devices to see how they compare.
The first YouTube video is of the Samsung Galaxy Note 4 vs. Galaxy Note 3, both running the official Lollipop upgrade although the Note 4 is on 5.0.1 while the Note 3 is on 5.0. The devices are shown alongside each other and then you'll see the AnTuTu benchmark test take place and hear the reviewer's rather 'interesting' style of commentary while he waits, including snack and beverage choice! The final scores are then shown and discussed but we won't give that away here, as you'll see this when you watch the video.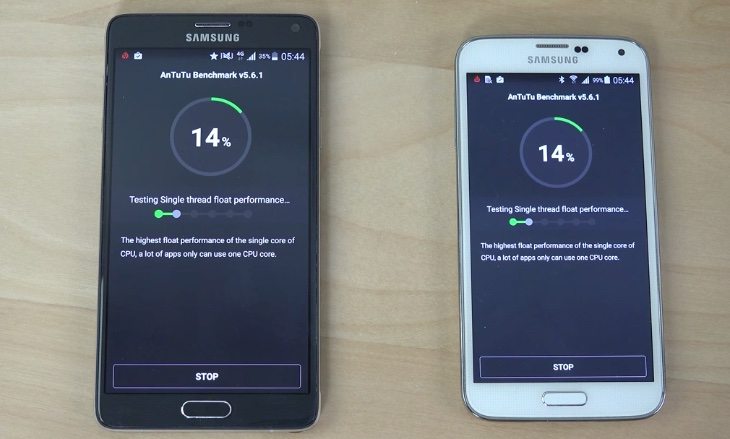 The second YouTube video below shows the Samsung Galaxy Note 4 vs. Galaxy S5, again both running Lollipop and both running the AnTuTu test. This time during the test the reviewer also discusses scores achieved by the iPhone 6 and Galaxy Note Edge and makes some further observations. Again at the conclusion you'll see the scores for each, and you can check out the results at the end of the video.
We're already hearing about Android 5.1, which is making an appearance on some budget Android One handsets. Yesterday we reported on a benchmark spot of a Nexus 5 running the Android 5.1 update, so it will be interesting to see the AnTuTu testing on the above Samsung devices take place when 5.1 arrives for those.
Are you already running Android Lollipop on your Samsung Galaxy Note 4, Galaxy S5 or Galaxy Note 3, or are you an owner of one of these handsets who is still waiting for this update?