Samsung Galaxy S6, HTC One M9 Carphone Warehouse UK pre-registrations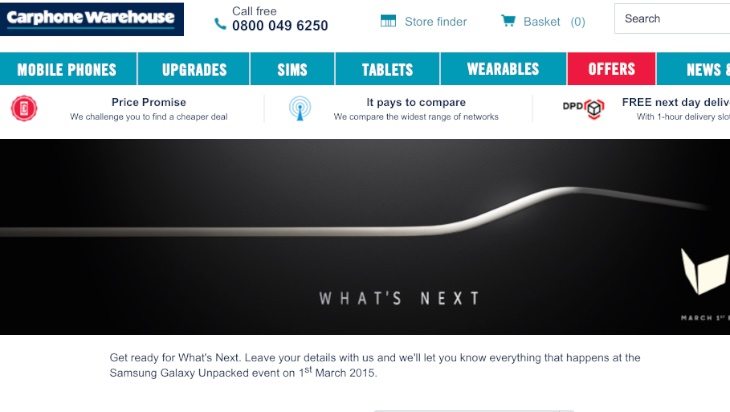 It's an exciting time of year in the smartphone world with MWC 2015 taking place in Barcelona next month. New flagships from Samsung and HTC are set to be revealed at separate events taking place on March 1st, and today we can tell you that Samsung Galaxy S6 and HTC One M9 Carphone Warehouse UK pre-registrations are now open.
Although we know these two new top-end devices are heading for a release, it's always reassuring to see the first signs of retailers preparing for availability. As for actual release dates nobody knows for sure, but recent pointers have suggested that the Galaxy S6 will hit the shelves in the last week of March, and we also expect the One M9 to be available around the same time.
Carphone Warehouse now has pre-registration pages up and running for both phones, although as you might expect they don't name them specifically. However there's really nothing else they could be as the retailer is calling them the 'New Samsung Galaxy' and 'New HTC One.'
On the page for the Galaxy S6 there's a teaser image and Carphone Warehouse says, "Get ready for What's Next. Leave your details with us and we'll let you know everything that happens at the Samsung Galaxy Unpacked event on 1st March 2015." On the One M9 page we're teased with "Let them stare. The new HTC One. Revealed 01.03.15."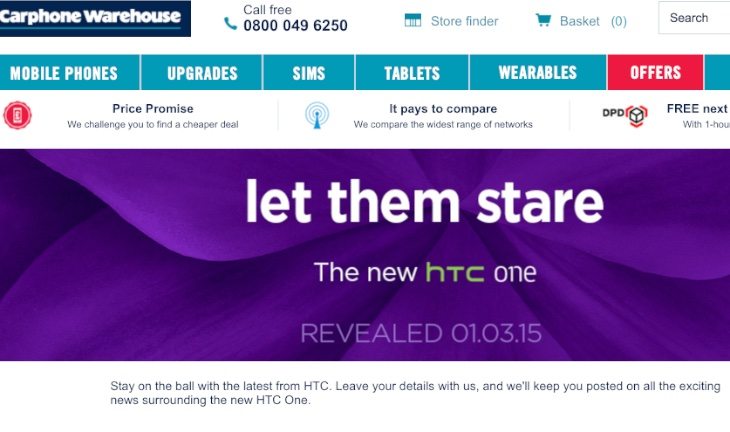 These new flagship phones are bound to be tough competition against each other, and you can see much more about them in our previous articles on the Galaxy S6 here or the HTC One M9 here. If you want to express an interest for either of these handsets at Carphone Warehouse you can do so right now by simply filling in a few details at the source links below. However, bear in mind these are not pre-orders to reserve one although that's likely to come soon after their big reveals.
Get ready to see a huge swathe of smartphones, tablets and other mobile devices officially unveiled at Mobile World Congress next month. You can be sure we'll let you know about the hottest new devices, including of course the new top-flight phones from Samsung and HTC.
Are you particularly waiting for the Samsung Galaxy S6 or HTC One M9? If so, which is it you are most interested in, and if you're a potential UK buyer will you be pre-registering with Carphone Warehouse? Let us know with your comments.
Source: Carphone Warehouse (Samsung Galaxy S6) and (HTC One M9)