Samsung Galaxy S6 features may have leaked through Samsung Norway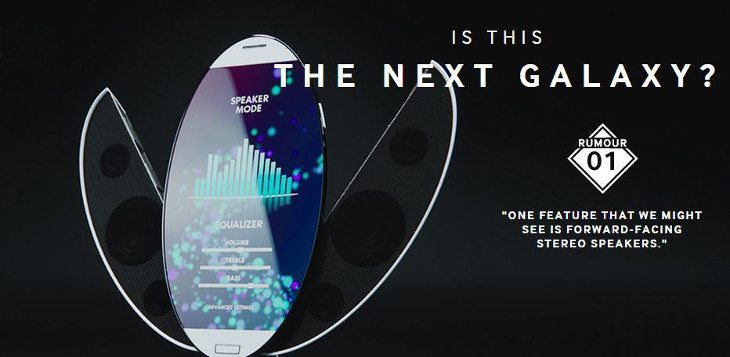 Another day, another Samsung Galaxy S6 leak. A lot of folks already have their calendars marked for Samsung's big reveal, and we're pretty sure we know what it will have under the hood already. It's always nice to have a bit of confirmation, and we may have just gotten that from Samsung Norway.
Samsung Norway has put an interesting page up on their website, and it's for the Samsung Galaxy S6. When you click on the "What's Next" image, you are taken to a landing page dubbed "Is this the next Galaxy?" The slider shows three concept images and a countdown clock ticking away to the big reveal. Obviously, the images do not show the Samsung Galaxy S6 design, but the wording is what's interesting.
The first pic shows a futuristic device with a dual speaker setup tagged Rumor 01, and it says "One feature that we might see is forward-facing stereo speakers." Rumor 02 talks about the Galaxy S6 being durable while the third one mentions a 3-sided display. If you've been keeping up with the rumor mill, all three features have been hinted at, and the last two are directed towards the metal build and QHD display we've talked so much about.
Samsung is either making light of the rumors we've been throwing around for the past 6-months or they have just confirmed what most of us have suspected. The front-facing stereo speakers rumor is one we haven't touched on much, but many believe that QHD display is a lock along with an edged variant. We'll find out in around 8 days when Samsung Unpacked 2015 kicks off.
via – Phonearena   source: Samsung Norway