Lumia 830 Windows 10 vs Lumia 535 WP 8.1 bootup test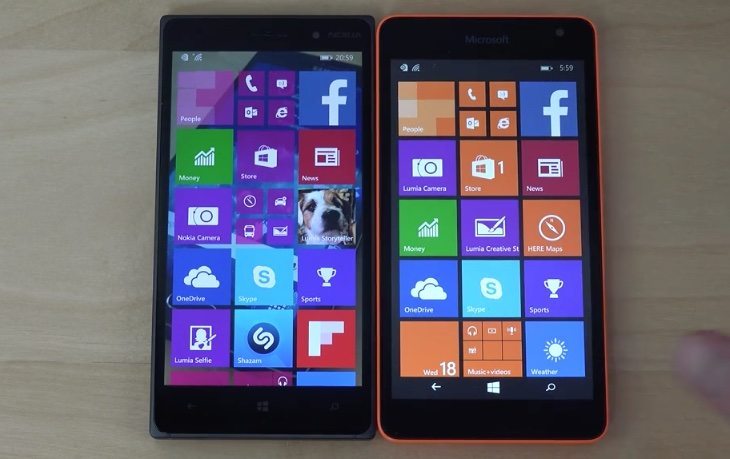 When new versions of operating systems are on the way it can be good to see how they compare with existing versions. Windows 10 is at the preview stage and offers a unified software experience for mobile devices and PCs rather than the Windows Phone platform. Today we have an informal Lumia 830 Windows 10 vs. Lumia 535 WP 8.1 bootup speed test.
Yesterday we posted an article with two videos comparing bootup and AnTuTu tests of the Lumia 830 on Windows 10 vs. the Samsung Galaxy Note 4 on Android Lollipop vs. the iPhone 6 on iOS 8.3. Both Windows 10 and iOS 8.3 are still in testing before they finally release to the public. This time around both devices in the bootup test are Lumia handsets and they are both running different versions of Windows.
The YouTube video below shows the Nokia Lumia 830 running Windows 10 up against the Microsoft Lumia 535 running Windows Phone 8.1. The Lumia 830 also launched on Windows Phone 8.1 but in this testing it's running a preview of Windows 10. Both of these phones have a 1.2GHz quad-core processor (Snapdragon 400 on the Lumia 830 and Snapdragon 200 on the Lumia 535), a 5-inch display and 1GB of RAM, although the Microsoft-branded Lumia 535 has a much lower price.
In the video the devices are placed alongside each other and we're shown that they are indeed running the above software versions, and then both are turned off. We should point out at this stage that the Windows 10 technical preview on the Lumia 830 is not the final build and noted to be glitchy right now. The handsets are then simultaneously powered up to see which one is ready to go first. We're not going to tell you which one boots up quickest as you'll want to see this on the video, so do remember to take a look when you scroll down the page.
We've you've checked it out we'd like to hear your thoughts on this bootup testing for the Lumia 830 and Lumia 535? Are you looking forward to the final Windows 10 release for your Lumia device? Send your comments to let us know.