FIFA 15 Companion app transfer problems since update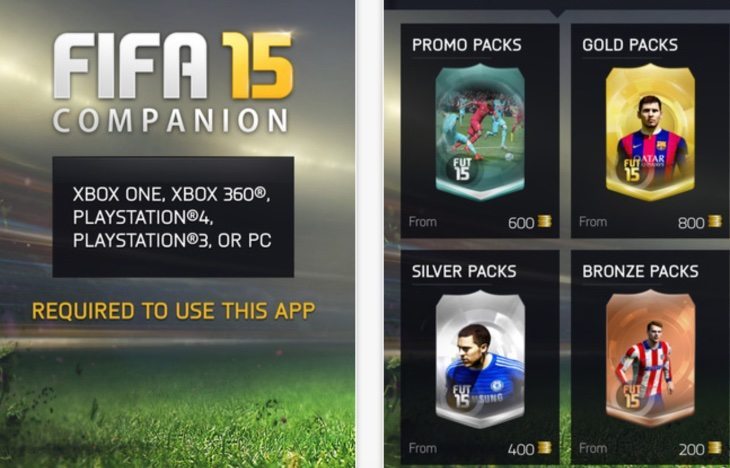 It doesn't matter whether you're a fan of Diego Costa of Chelsea or Robin van Persie of Manchester United, the one thing that we can be sure of is that you are a football supporter. In that case you may also enjoy FIFA 15 and the companion app for Android or iOS devices, but now there appear to be EA Sports FIFA 15 Companion app transfer problems since the latest update.
The app for both platforms requires users to have an Origin account connected to FIFA 15 (Xbox One, Xbox 360, PlayStation 4, PlayStation 3, or PC). For Ultimate Team feature you also need to have an Ultimate Team Club within FIFA 15. Some of the features of the app include finding and bidding on players on the FUT transfer market, selling players with the FUT transfer list, and managing your FUT squads.
The free Companion app for Android and iOS received an update just yesterday and the 'What's New' section of the app description includes being able to preview the full TOTW on the Home Screen from the Live tile as well as being able to preview all squads in 'My Squad' without needing to set them as active. There's also extra security in the form of Two Factory Authentication.
The iOS FIFA 15 Companion app is available from iTunes while the Android version is on Google Play, but everything is not as smooth as it could be for some. To be frank it's not the first time we've heard of issues with this app, and since the update yesterday we've been receiving comments from our readers as well as emails about problems. A look at the user reviews on the app descriptions also show that many people are facing difficulties with the app.
Comments since the latest update on the Google Play Store make it clear that many players are very unhappy and frustrated. For example one user says, "Absolutely garbage. Can't use the transfer window anymore also never get any decent players. EA rip off." Another says, "Transfer market down…Despite update. Had update to see totw and other squads but still no transfer market, which is the main point off the app, please sort it out EA." A further comment says "Worse than before. The new update is just pointless, can't access the transfer market now."
Meanwhile user comments on the App Store include this one saying, "Great app but currently the market on the app is broken and under maintenance so please fix that so we can list and buy players." Another commenter says, "I would rate it as excellent but I have been having trouble with the transfer market selling players and clearing sold items." These are just a few of the many comments from users about issues with the app and we'd like to hear from readers about this.
Do you have the latest update for the FIFA 15 Companion app for Android or iOS? If so, is everything working fine for you, or are you encountering any of the problems that other users are having? It would be good to get an idea of how widespread these issues are, so do let us know with your comments.