Moto E 2nd gen concise unboxing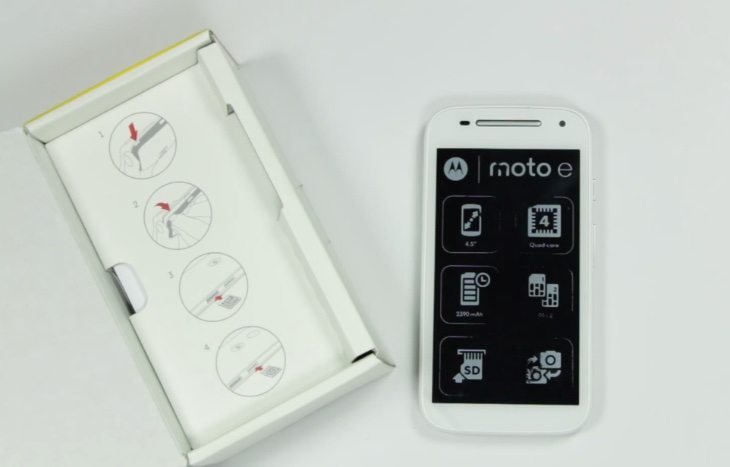 The new Moto E (2015) was made official at the end of February and is releasing to different markets worldwide. It's already available in the US and UK and last week arrived on sale in India. We've been bringing readers plenty of information about this new smartphone, and now we have a Moto E 2nd gen concise unboxing to share.
The second-generation Moto E is likely to be in big demand following the immense popularity of the first Moto E and its affordable price tag. It comes in 3G-only or 4G LTE models, and if you want an idea of what to expect you might find the YouTube video embedded beneath this article of interest.
It comes from 91mobile and shows the retail packaging for India and Indian pricing for the 3G version of the phone of just Rs. 6,999. You'll see the outside of the packaging and then the unboxing and reveal of the handset as well as the other contents of the box. These include a quick start guide, earphones, and adapter and you'll get a chance for some brief looks at the phone.
There's not too much else to say as the video purely focuses on the unboxing. However, if you want to know much more about it you can check out any of our other articles on the new Moto E from this link. These include comparisons with other handsets such as the first-generation Moto E, Lenovo A6000, a review and more.
When you've watched the video we'd be interested in hearing what you have to say about this new Motorola smartphone. Have you already decided that you are going to purchase the Moto E 2nd gen? What is it about this phone that pleases you most? We're always interested to hear from readers so do feel free to send us your comments.