Special Edition Xiaomi Mi Note announcement scheduled for tomorrow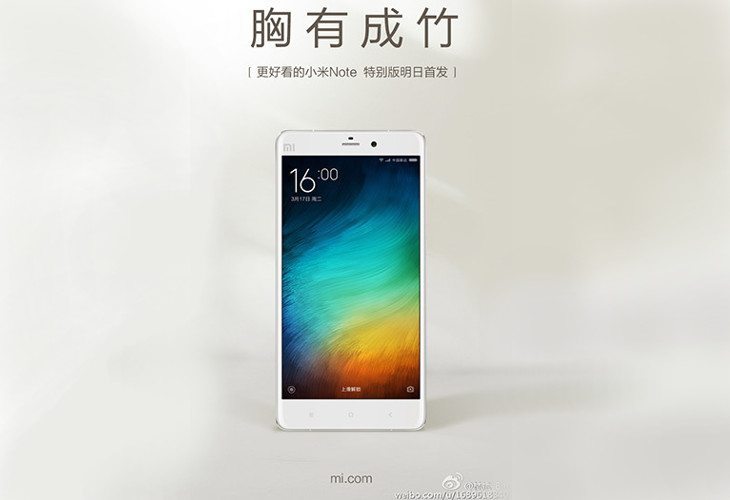 The Xiaomi Mi Note is a popular gadgets that's sold well anywhere it has landed. While we fully expect Xiaomi to release a full-fledged successor down the road, the company is gearing up to announce a special edition of the device tomorrow.
The original Xiaomi Mi Note has only been around since January, but company's president and co-founder, Lin Bin, has just dropped a teaser for a new variant. An image was released through Weibo that shows the new handset while giving a few details about the device. It's compared to the iPhone 6 Plus, and is said to be made from two sheets of glass which means it'll have a glass back. Unfortunately, no other hints were given.
At this time, we're unsure if the changes to the Xiaomi Mi Note special edition will be cosmetic or if the company will pull a components swap under the hood. A new chip could be a possibility considering the original has a Snapdragon 801, but it's unlikely they would alter the display size or increase the RAM. The cameras are pretty solid at 13MP/4MP, but there is certainly room for improvement in that area.
We won't know what Xiaomi has up their sleeves until tomorrow, but we're excited to find out what the special edition Xiaomi Mi Note is all about. Stay tuned, and we'll have more on the company's new smartphone announcement tomorrow.
via – GSMDome