Samsung Galaxy A7 vs A5, A3 and Alpha Internet and bootup tests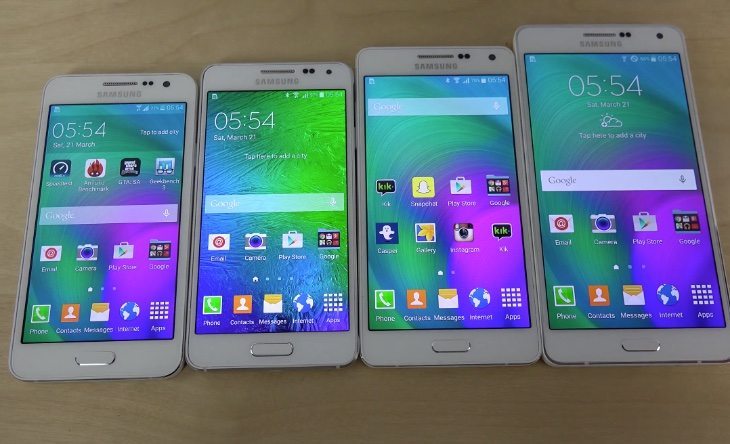 Although we try to bring as much news on new smartphones and tablet as possible, sometimes it can be good to take a nice diversion. Today we're sharing two videos that show some comparison testing of the Samsung Galaxy A7 vs A5, A3 and Alpha in Internet and bootup speeds, and it should be interesting to see what the results are and if you can predict the winner/s.
The Samsung Galaxy Alpha was the first of these smartphones to release followed in more recent months by the other three. The Galaxy Alpha has an Exynos 5 octa-core processor, 4.7-inch display, and 2GB of RAM. The Galaxy A7 has either a Snapdragon 615 or Exynos 5 octa-core processor (markets vary) a 5.5-inch display, and 2GB of RAM. Meanwhile the Galaxy A5 has a Snapdragon 410 quad-core processor, 5-inch display and 2GB of RAM. Finally the Galaxy A3 is equipped with a Snapdragon 410 quad-core CPU, 4.5-inch display and 1GB of RAM.
We've embedded two videos beneath this article for your viewing pleasure. The first YouTube video shows all of the above four handsets in an Internet speed test. The reviewer performs the Ookla Speedtest on these phones, beginning with the Galaxy A3 that is the smallest and cheapest of the bunch. You'll then see the resulting download and upload scores for each handset. We're not going to give away the winner here as it might spoil your enjoyment of the video. However, we will say that one of the phones managed remarkably higher scores than the other three. Can you guess which one?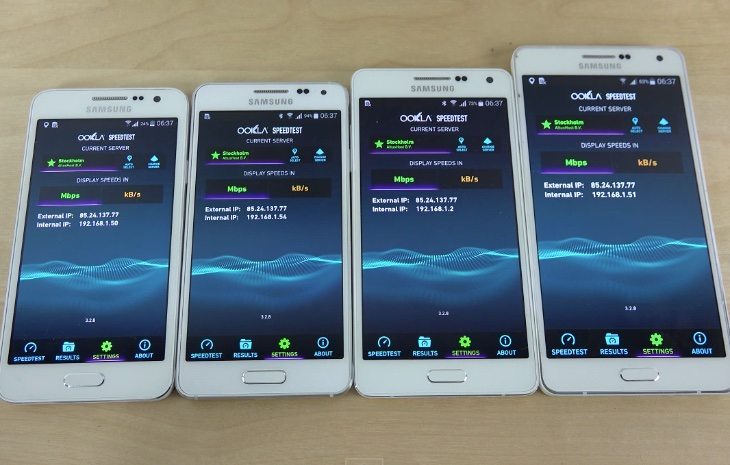 The second YouTube video shows the same four phones in a bootup test. All four handsets are simultaneously powered up to see what one is up-and-running first. There's not too much difference between them this time and again we won't give away the fastest. Nevertheless, you may be surprised at the results of this testing, which might give you a clue. The reviewer also shows that all four are running the Android 4.4.4 KitKat operating system.
When you've taken a look at the videos below we'd be interested to hear from you. Of the Samsung Galaxy A7, A5, A3 and Galaxy Alpha, did you manage to predict the winner in each test? Maybe you were surprised at the outcomes shown? Do drop us your comments in the box below.