Real Madrid news, livescores, transfers app receives update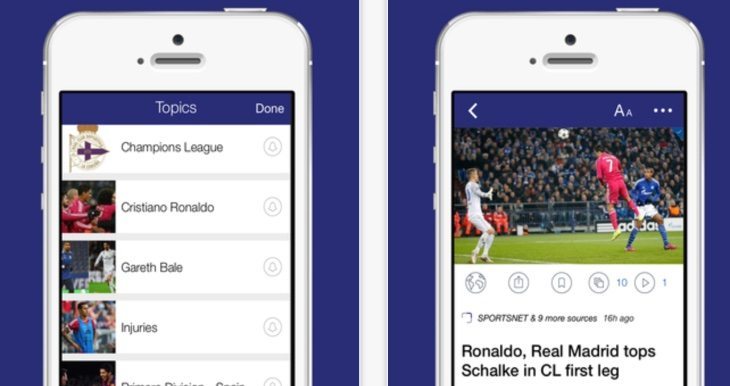 If you're a fan of Cristiano Ronaldo, Karim Benzema or Sergio Ramos then it's odds on that you're a Real Madrid supporter. The club is in contention with Barcelona for the La Liga top spot, and if points for both teams are level at the end of the season, it would be Real that would win because of their head-to-head record. There's plenty to keep track of then, and a Real Madrid news, livescores and transfers app has just received an update.
This Sportfusion app is hugely popular with users and the iOS version was updated just a few days ago. The Android app was last updated in mid-February. The app has a huge amount to offers users, who will find all they need to follow Real Madrid in one free app. It covers all of the major football sources as well as YouTube video channels to provide an overview of everything going on with Los Blancos.
Features include news content with push notifications available for important news, a scoreboard for league matches, a read later feature, and social news. There's an in-app comments system so that you can discuss everything to do with Carlos Ancelotti's men with other fans, and a customized news feed so that you can choose what you want to hear about and what you don't. For example if you only want to hear news about certain players such as Iker Casillas or Luka Modric it's easy to set this up, or you can set it for favourite topics.
The iOS version of the app is called Sportfusion — Real Madrid FC News Edition — Live Scores, Transfers & Rumors. The recent update to version 3.0 has brought a new user interface and new features. The free app is available for iPhone, iPod touch running iOS 6.0 or later from iTunes. Alternatively the Android app is called SF — Real Madrid Edition and is available from Google Play. It's compatible with devices running Android 2.2 or later.
If you decide to try out this app it would be good to receive your comments. What do you think about this Sportfusion Real Madrid app for iOS or Android? Would you recommend it to other Real Madrid fans?