Samsung Galaxy Note 3, Note 4 on AT&T receiving Lollipop update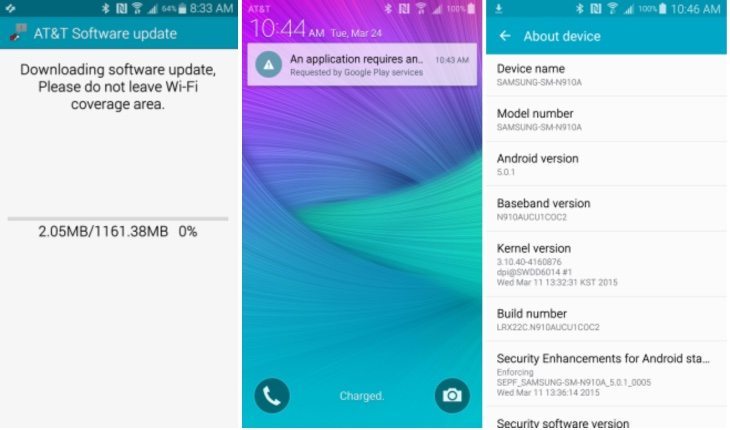 We've been tracking the progress of the Android 5.0 Lollipop update for various Samsung devices, and now it's the turn of some AT&T customers. The Samsung Galaxy Note 3 and Note 4 on AT&T are now receiving the Lollipop update. It started arriving for these devices yesterday, so over the next few days it should reach most AT&T users with these phablets.
The official Android 5.0 Lollipop update for the Galaxy Note 4 (N910A) for AT&T arrived first, with the giant carrier giving the relevant information online. The update is around 1.2GB so is pretty sizeable, and users should therefore download it via WiFi. As well as the joys of Lollipop this update also brings Find My Mobile and Reactivation Lock as well as improvements for stability, and after updating your Note 4 will be on build number LRX22C.N910AUCU1COC2.
These rollouts usually appear in phases, but if you don't receive notification to your device you can always check manually by heading to Settings, followed by About Device and then Software Update. Owners of the Galaxy Note 3 will be pleased to hear that Lollipop has now started to be pushed out for this handset on AT&T too. This upgrade for the Note 3 (model SM-N900A) is also an over-the-air update that's 1.2GB in size, and it will bring your device to build number LRX21V.N900AUCUEOC1.
Users updating the Note 3 and Note 4 will notice a host of improvements, changes, and performance optimizations, including the revamped TouchWiz UI. Again this needs to be downloaded over WiFi and you can check manually if you don't receive notification to your device. You can see more about the update for both of these devices at the source links below.
Are you happy to hear that your AT&T Galaxy Note 3 or Galaxy Note 4 will now be receiving a taste of Lollipop? If you have already updated your device it would be good to know what you think of the changes and improvements this Android update brings? Do let us know with your comments.
Source: AT&T (Note 3) (Note 4)
Via: Android Police (1)(2)