Xiaomi Mi4 on open sale in India from today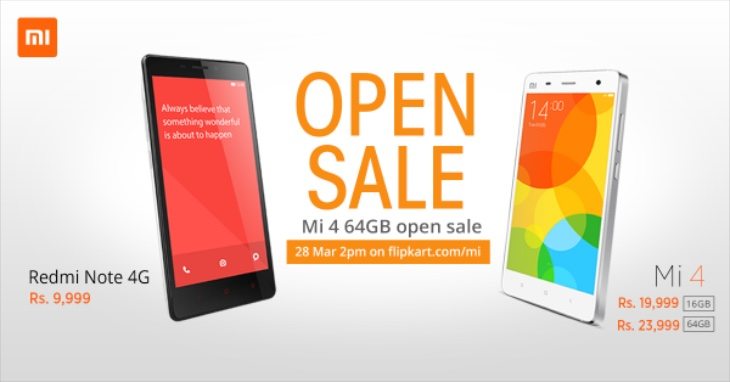 Xiaomi has been having a lot of success lately with its Mi devices in India, and now there's some great news for those who want the Xiaomi Mi4 smartphone. Up to now this handset has only been available on Flipkart via flash sales that require potential buyers to register. Now the company has announced that the Xiaomi Mi4 will go on open sale in India from today.
The Mi4 has some notable specs and is in big demand, but many people are not fans of the flash sale registration system. Therefore the chance to be able to just buy a Mi4 without registering will be appreciated. Xiaomi posted a tweet today saying, "Awesome news, Mi 4 64GB going on open sale 28 Mar 2pm." The 64GB Mi4 price is Rs. 23,999 and the open sale only applies to Flipkart.
Xiaomi has big plans at present, with moves to sell 100 million smartphones in 2015, so open sales being added to the mix is something we're not too surprised about. However, stocks are still likely to be limited both for open sale and flash sales, and we can only wonder if people will still be left frustrated.
If you want to know much more about the Xiaomi Mi4 please do check out our previous articles on the phone from here. These include specs comparisons with other handsets such as the HTC Desire 820 and OnePlus One, battery life performance, reviews and more. If you want to try your luck in the open sale today you can do so at this Flipkart product page where the sale is now on!
Are you going to take advantage of this open sale opportunity for the Xiaomi Mi4 in India? It would be good to know if you manage to get one or not, so do let us know by using the comments box below.
Source: Mi India (Twitter)
Via: GSMArena