Asus Zenfone 2 release finally coming to Europe for €179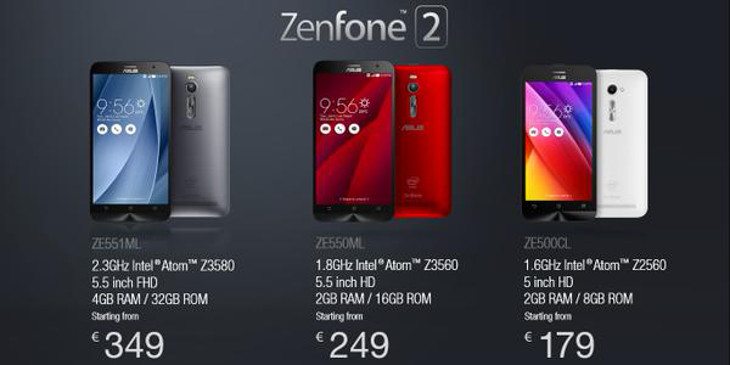 The Asus Zenfone line has by far been one of the company's more popular products, and the Zenfone 3 has been making the rounds through the rumor mill over the past few weeks. The previous handset is still quite popular, and we're pleased to announce the Asus Zenfone 2 release is finally coming to Europe.
The Asus Zenfone 2 was unveiled at CES 2015 earlier this year, and it was interesting for reasons other than its price. The handset came out with a variant packing a whopping 4GB of RAM, which is a feature you're not going to find from Samsung, HTC or Sony. Whether you actually need all that memory depends on the types of apps you run, but if you dig future proof phones, it's surely handy to have.
The European release of the Asus Zenfone 2 will come in three variants with the ZE500CL being the bottom model with a 1.6GHz Intel Atom Z2560, 5-inch 720p display, 2GB of RAM, 8GB of storage. The rear camera is listed at 8MP while the front-facing snapper features a 2MP sensor. The battery is listed at 2,500mAh, and it will run Android 5.0 out of the box.
The Asus Zenfone 2 ZE550ML has a bit more pop thanks to a 1.8GHz Intel Atom chip, and the display is a larger 5.5-inch 720p panel. The RAM stays the same, but the storage capacity jumps to 16GB while the battery gets a boost to 3,000mAh. Rounding things out is a 13MP/5MP camera combo, and Android 5.0.
Last but not least, is the Asus Zenfone 2 ZE551ML with the aforementioned 4GB of RAM. It has the same 5.5-inch panel as the ZE550ML, but at a better resolution of 1,920 x 1,080. Everything else stays the same as the 550ML aside from the 2.3GHz Intel Atom chip and 32GB of internal storage.
The Asus Zenfone 2 lineup offers up a little something for everyone and it's great to see them headed to Europe as we've already learned the release plans for India and the US. The European rollout is set to begin in France, and the cheapest of the bunch will be the Asus Zenfone 2 ZE500CL with a price of €179. The ZE550ML price is listed at €249, while the top of the line ZE551ML goes for €349.
Happy to see the Asus Zenfone 2 come to Europe?