Samsung Galaxy S6 and Edge pricing and plans at Carphone Warehouse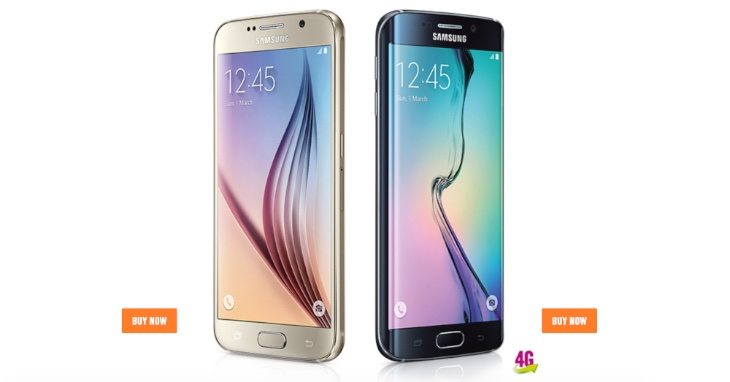 The Samsung Galaxy S6 and Galaxy S6 Edge have just released to many countries across the world, and today there's news for UK buyers. We have information on Samsung Galaxy S6 and Edge pricing and plans at Carphone Warehouse, with some units available but a wait for others.
These smartphones are receiving plenty of praise right now and we've already written a ton of information on them. For more on the Galaxy S6 head here or for the Galaxy S6 Edge check here where you'll find comparisons with other handsets, videos, reviews and much more. Many UK buyers will have been waiting for availability from Carphone Warehouse so read on for details.
The Samsung Galaxy S6 is available to buy from the giant retailer with an unlocked and SIM-free price of £599, £659.99 or £739.99 for the 32GB, 64GB or 128GB versions respectively. However, at the time of writing only the 32GB in black or white is showing as in stock at Carphone Warehouse online, with the gold colour option showing with expected delivery of 2 to 3 weeks.
If you want the 64 or 128GB models there's a wait for those too. All three colours of the 64GB version are listed for availability in 2 to 3 weeks while for the 128GB variant you'll have to wait 4 to 6 weeks. The phone is also available on a variety of contract plans and prices from Carphone Warehouse on Vodafone, EE, and O2. We'll just give a few examples of some of the plans available, but there are many more.
One example on Vodafone for the 32GB Galaxy S6 involves no upfront cost and then contract payments of £40 monthly for 24 months. That's for a plan with unlimited minutes and texts and 2GB of 4G data. Another plan on O2 is no upfront cost and 24 monthly payments of £44, and that will get you unlimited minutes and texts with 5GB of 4G data. One EE plan involves a downpayment of £9.99 and then 24 monthly payments of £48.49, and for that you'll get unlimited minutes and texts and a whopping 10GB of 4G data monthly.
Meanwhile if it's the more expensive Samsung Galaxy S6 Edge that you want it's only currently up for grabs on contract plans from Carphone Warehouse and not SIM-free. The S6 Edge is only in 64 or 128GB variants but none are in stock right now, at least online. The 64GB version is showing with delivery expected between 1 and 3 weeks depending on colour option while the 128GB Edge has a wait of between 2 to 6 weeks.
There are some plans already listed for the S6 Edge though and you can pre-order right now. One plan for the 64GB version is with Vodafone and involves an upfront payment of £99.99 with monthly payments of £44 to follow. This will get you 1000 minutes, unlimited texts, and 1GB of 4G data each month. Another plan, this time on EE has an upfront payment of £359.99 and monthly payments of £31.99. This deal offers unlimited minutes and texts and 5GB of 4G data.
Although the availability above is correct at the time of writing from Carphone Warehouse online, it may be different at retail stores so you might want to check that out. It's also worth noting that further plans were being added as we wrote this article, so there could be even more by the time you take a look.
However, it does look as though Carphone Warehouse doesn't initially have anything like enough stock, so getting the model you want right now could be difficult. If you want to check availability and price plans from Carphone Warehouse head to this Galaxy S6 product page or this Galaxy S6 Edge product page.
Are you hoping to order the Samsung Galaxy S6 or S6 Edge online from Carphone Warehouse? Maybe you've found availability in a retail store of the chain when it's not listed as in stock online? Let us know with your comments.