Samsung Galaxy S6 vs OnePlus One bootup speeds compared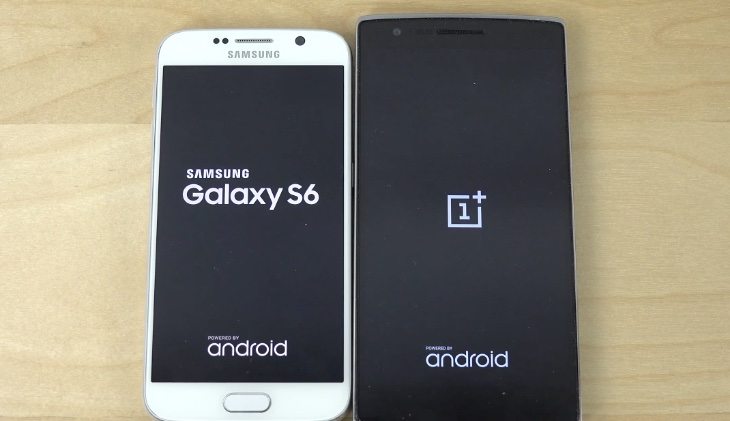 As well as giving readers in-depth comparisons on smartphones it can be good to see some quick contrasts for particular aspects of different devices. The new Galaxy S6 is currently creating quite a storm and one of its rivals is the OnePlus One that was dubbed a flagship killer when it launched last year. Today we're sharing a Samsung Galaxy S6 vs. OnePlus One bootup speed test that gives an interesting result.
Before we get to that we'll just run through the key specs of each devices. The Galaxy S6 has just released and is powered by an Exynos 7420 octa-core processor (4 cores at 2.1GHz and 4 at 1.5GHz), with Mali-T760MP8 graphics, a 5.1-inch Quad HD resolution display, and 3GB of RAM. Turning to the OnePlus One phone, this released in June last year and is equipped with a 2.5GHz Snapdragon 801 quad-core processor, Adreno 330 graphics, a 5.5-inch Full HD display, and 3GB of RAM.
Beneath this post we've positioned a YouTube video for your viewing convenience and it shows the bootup test comparing the speeds of the two phones against each other. It begins by showing both handsets alongside each other and then they are simultaneously powered up to see what one is up-and-running first.
We're not ruining the suspense here by telling you the winner as many of you may prefer to find out when you watch the comparison. However, we'll tease you by saying that you might be surprised at the result, especially when considering that the OnePlus phone is nearly a year older than the new Samsung Galaxy flagship.
After the brief test you'll get a look at the UI's of both phones and their respective operating versions, which the reviewer shows by heading to About Phones under Settings. This will give you a chance to see some of the differences between Android with TouchWiz on the Galaxy S6 and the Oxygen OS based on Android with the OnePlus One.
When you've taken a look at the video below it would be good to hear from you. Were you surprised at the outcome of the bootup test between the Samsung Galaxy S6 and OnePlus One smartphones? Let us have your comments.